Occasional Contributor II
Mark as New

Bookmark

Subscribe

Mute
Hi,
After trying the ArcGIS Online trial for quite some time and testing it out with our data - I made the move to purchase some Creator licenses. The Customer service team assured me that they could transfer the data to the new, purchased subscription instead of the trial subscription when that time came.
With a good amount of data uploaded and configured and working/loading/visualizing appropriately in the trial environment - much of my Hosted data now suddenly won't draw - and when attempting to view the Hosted Feature Layers data tab no records load with a message of Data Error.
I'm really frustrated if that means I have to republish/overwrite a lot of my work that I've done so far. Any configurations that I am missing or anything that can be done? I have all the original data available locally but it'll be a pain to republish.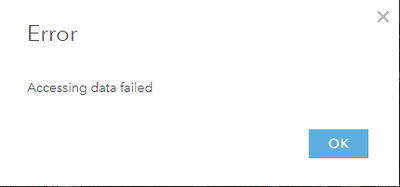 Thank you
Henry
2 Replies

Not applicable
Mark as New

Bookmark

Subscribe

Mute
Hi @Henry - I don't believe you are doing anything wrong. I think this is an issue that Technical Support can help resolve. Can you contact Support and open a case? https://support.esri.com/en/contact-tech-support
Alternatively, if you can let me know your ArcGIS Online subscription ID or customer number I can get a case started for you from my end. You can send me a direct message over Esri Community or email pklingman@esri.com.
Thanks,
-Peter
Occasional Contributor II
Mark as New

Bookmark

Subscribe

Mute
Hi Peter,
Thank you for the reply - I sent you a couple of messages with those details.
Henry