Occasional Contributor II
Mark as New

Bookmark

Subscribe

Mute
Hello Everyone,
I am trying to display a list of species by county using the dashboard List but the problem is that the same species can be in many counties and selecting multiple counties on the map created duplicate values on the list (see image below). What I am trying to accomplish is displaying the list of species on list by selecting the county polygons on a map. The species list is from a related table with a county id. The chart in the image capture the correct values because I can enable the "Distinct" function on the widget setting. The list don't have the "distinct" setting and I was wondering if arcade could be use to remove the duplicate values from the the list render. I am new to arcade and I am not sure if it is even possible to filter the duplicated values by using the species ID and the county code. I also try experience builder but I had the same problem with the list and the table widget. Thank for any suggestions !
JB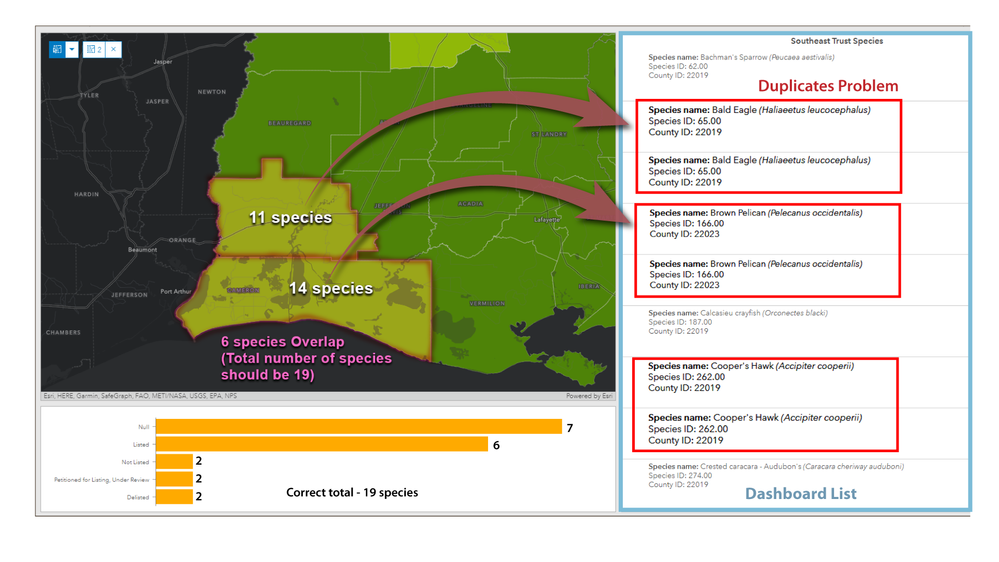 1 Reply

Occasional Contributor III
Mark as New

Bookmark

Subscribe

Mute
Hi @JoseBarrios1 , you may want to try grouped values under your filters/settings when configuring a dashboard. This works with lists or category selectors such as day of week, so instead of having thousands of Monday values, you get a list of unique values to choose from. You can find the grouped value setting when you open the configure tab on your dashboard elements, and from there you can apply other field or layer filters to help clean your data up for your desired effect. Hopefully this helps answer your question, great use case by the way!
Cheers,
Jansen Lyons - Records and GIS Section - Public Works - City of Rio Rancho, NM