Mark as New

Mark as Read

Bookmark

Subscribe

Email to a Friend
Before you start here, check out our first highlight from the UC 2019 Expo.
The UC is known for gathering thousands of geographers, cartographers, students, IT professionals, and other non-technical professionals together for inspiration and innovation. What do these professionals all have in common, especially during this conference?
The love of maps.
Maps are at the center of all the action at the UC. In the Reception Gallery on Monday, mapmakers and map-admirers made their way under the greenhouse-styled area of the San Diego Convention Center.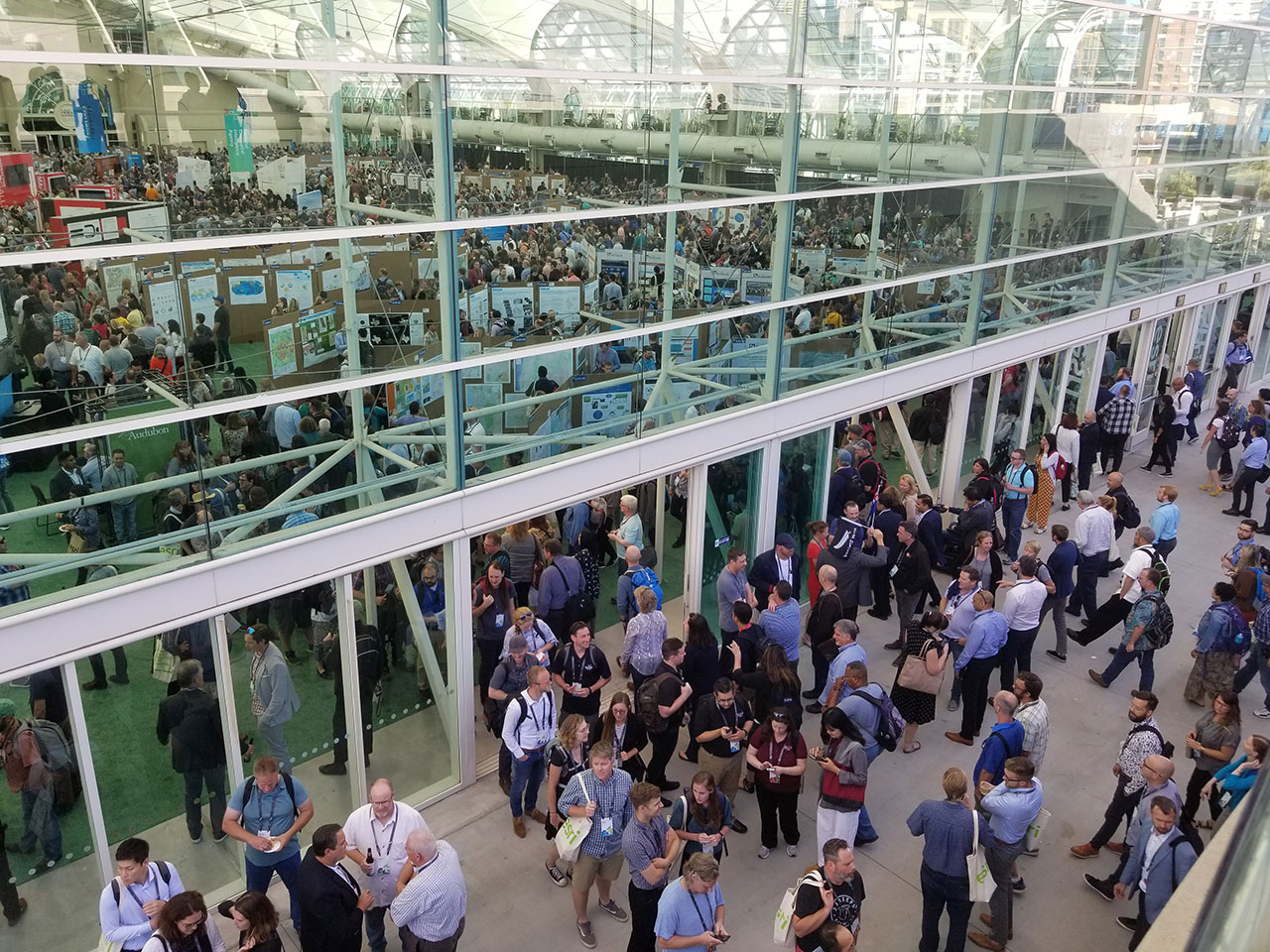 The opening reception hosted special guests that signed books and posters and took photos with attendees:
Tracy R. Wolstencraft of the National Geographic Society was at the National Geographic booth signing posters. By the way, have you used their latest basemap in your in any of your projects?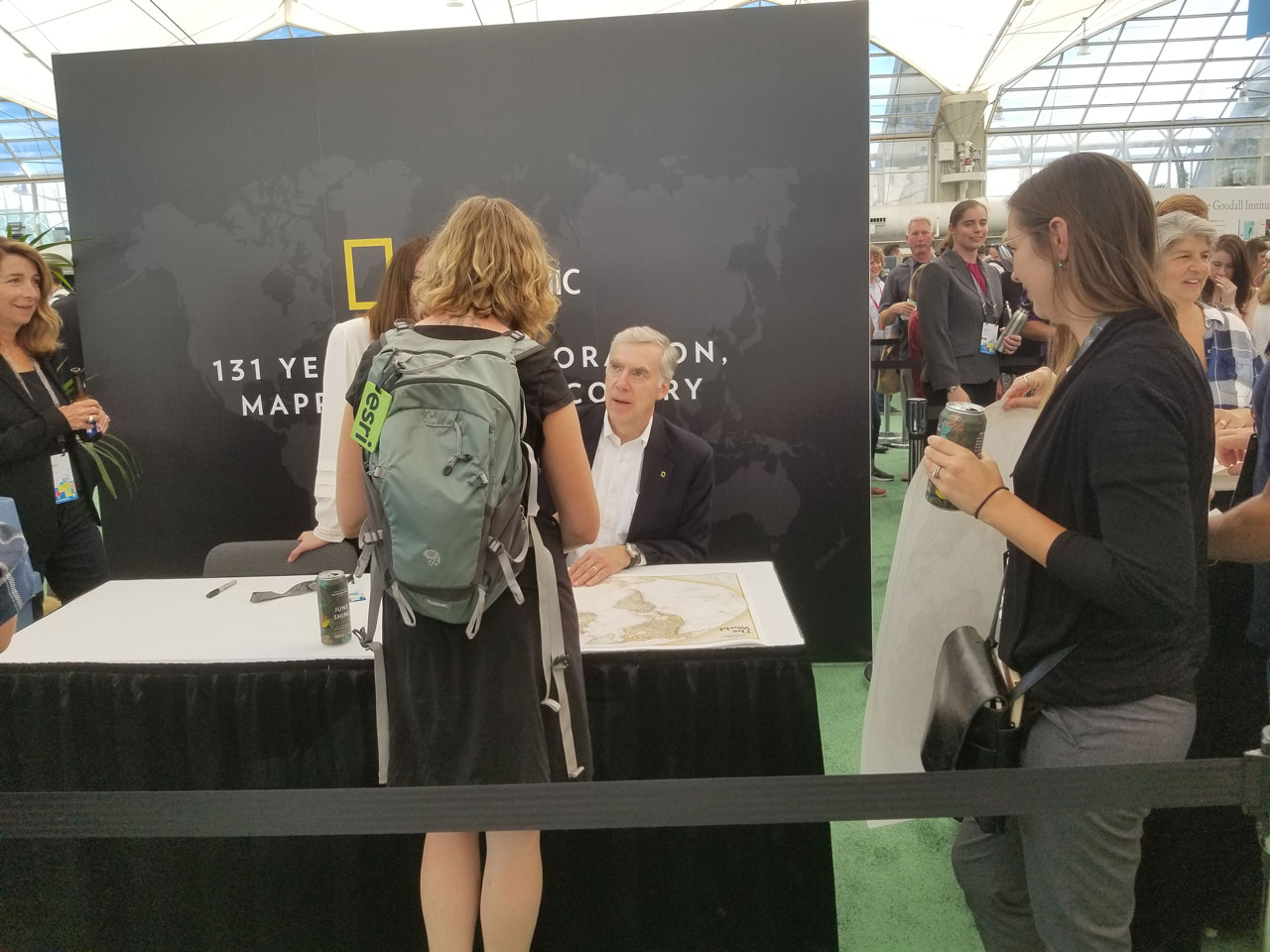 Jack Dangermond stopped and took selfies with UC attendees.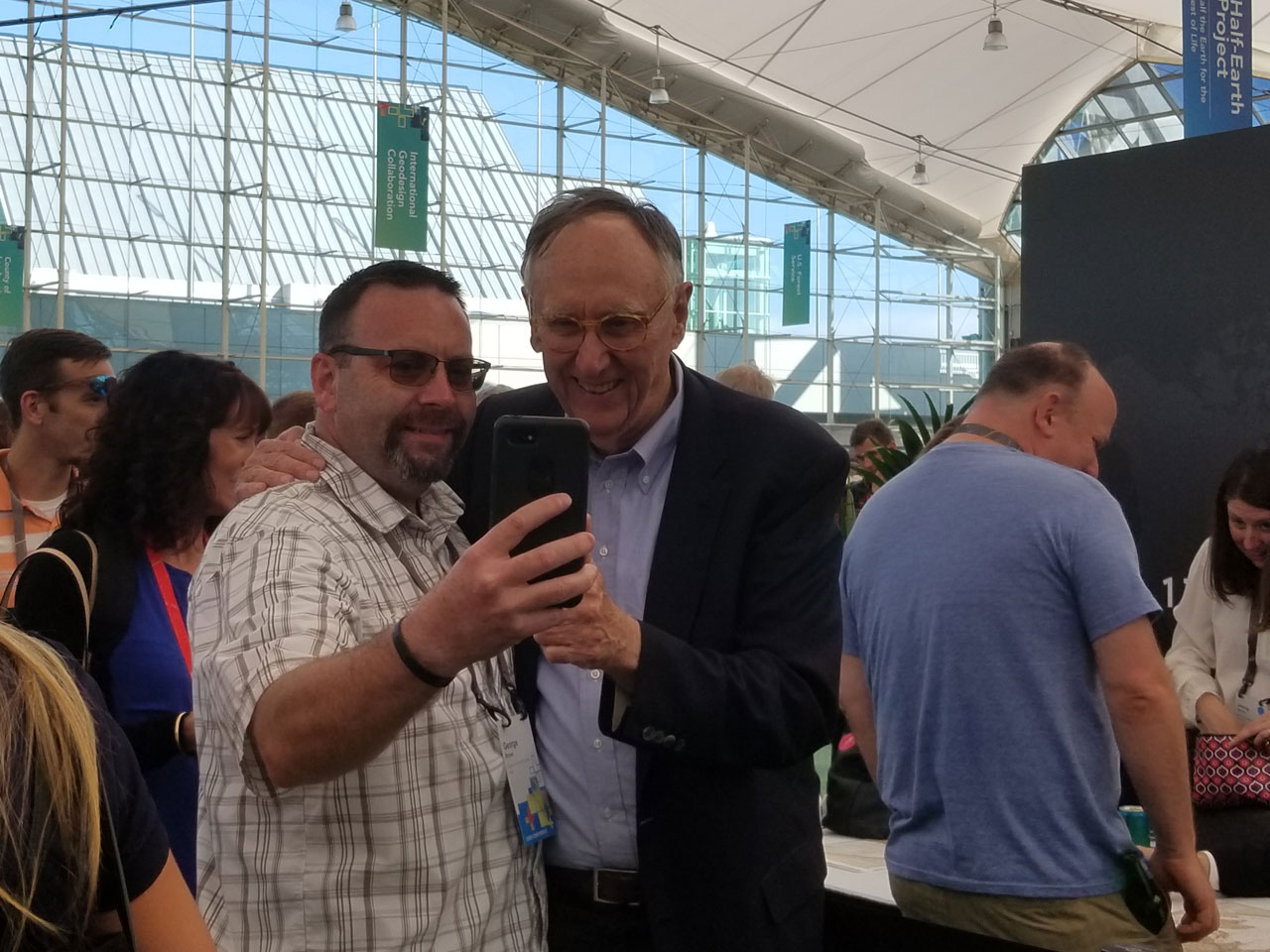 A few of the featured storytellers of the Women In GIS book were signing copies and meeting readers.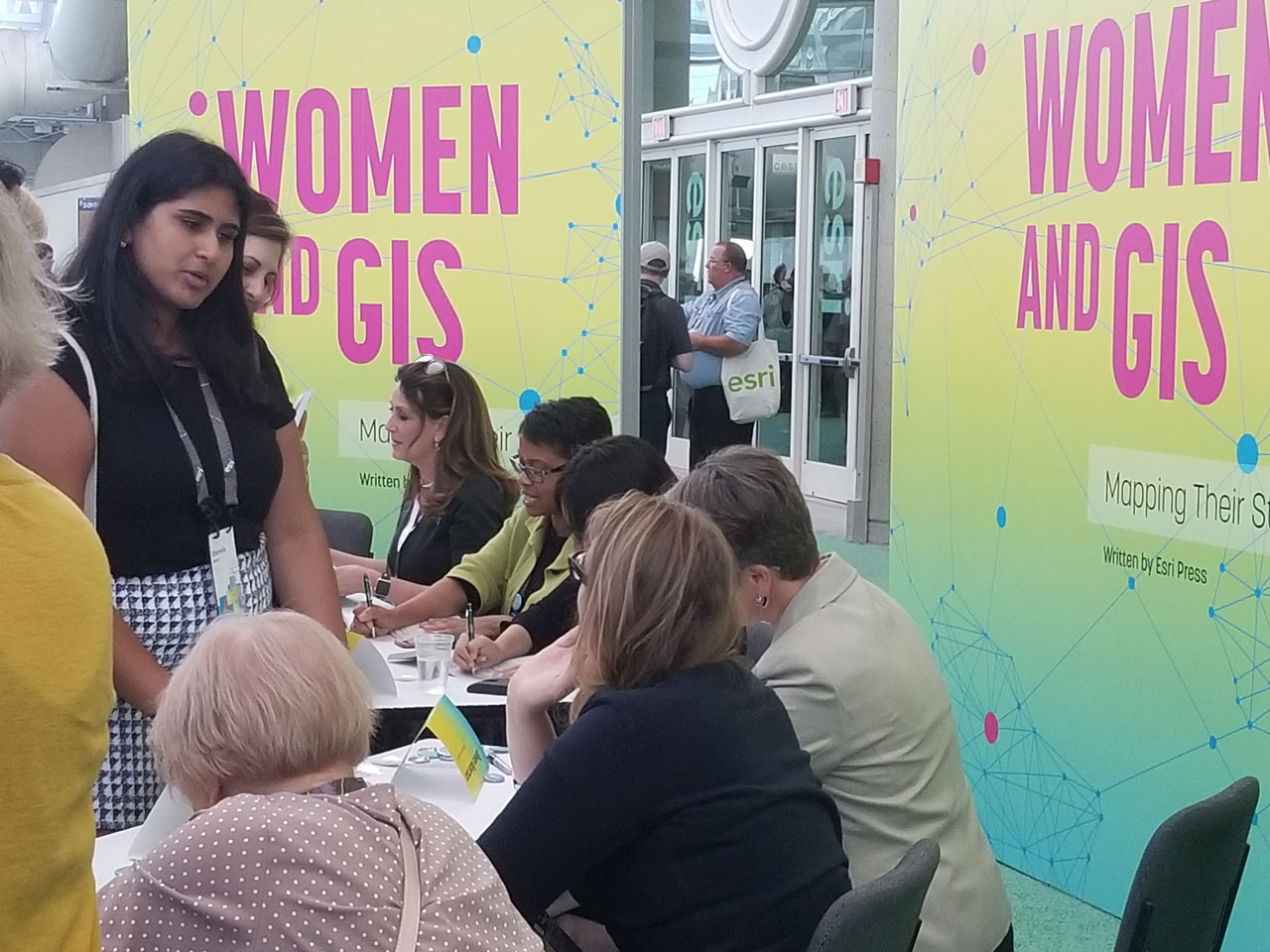 A Few Maps from the Gallery
Among the maps that uncover some of the world's hidden challenges in print, 3D, and digital interactive media, there were a few maps that I thought were interesting:
Europa Tech encouraged overwhelmed UC attendees to take a mindful minute and color their stress away on this Ordnance Survey MasterMap Topography Layer of central London, UK.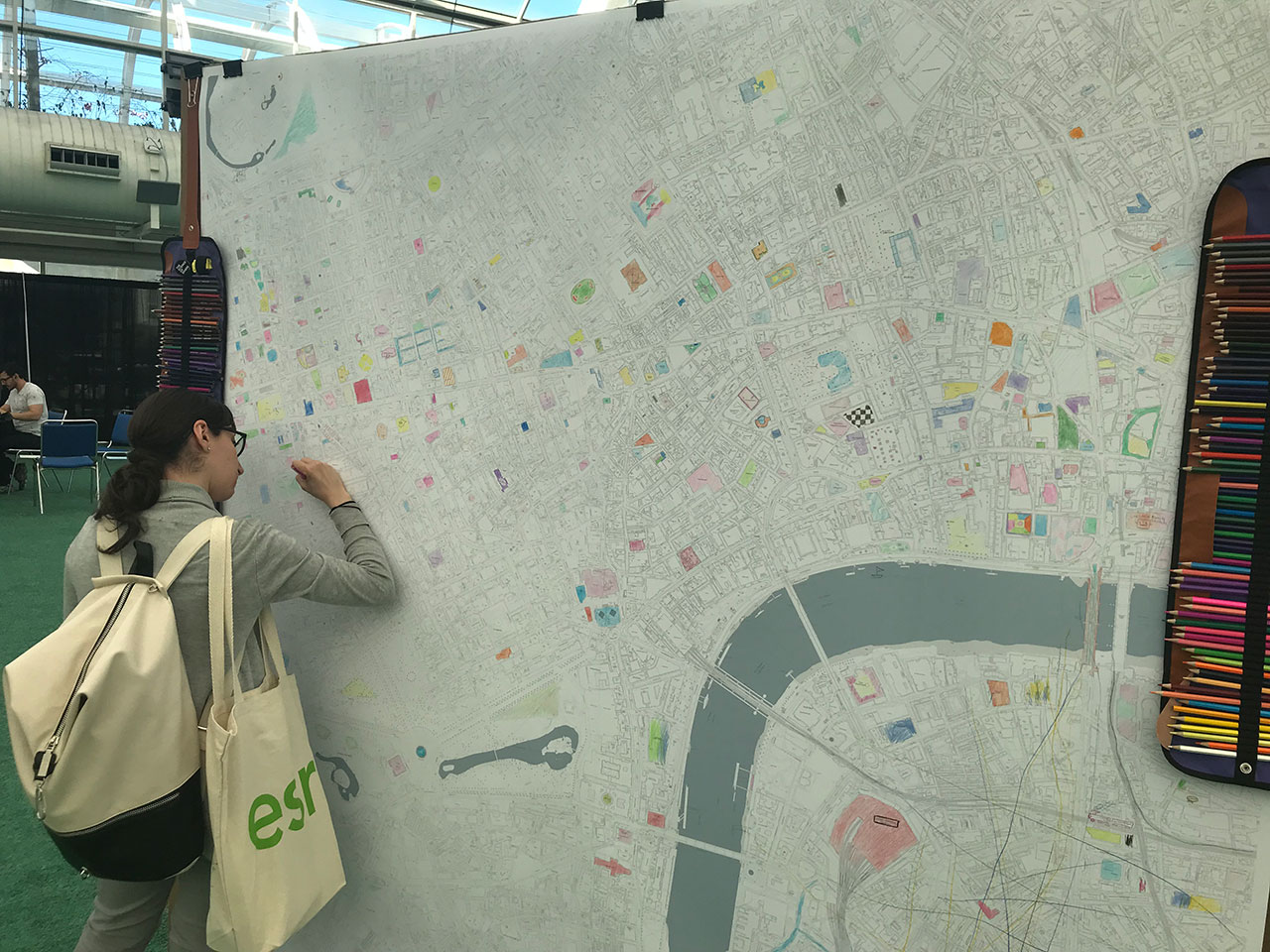 Houseal Lavigne Associates brought their collection of game maps to the gallery. This submission is based on The Settlers of Catan, a German board game that originally came out in 1995. They used hexagonal tiles to reimagine the gameboard with the United States as the playing field.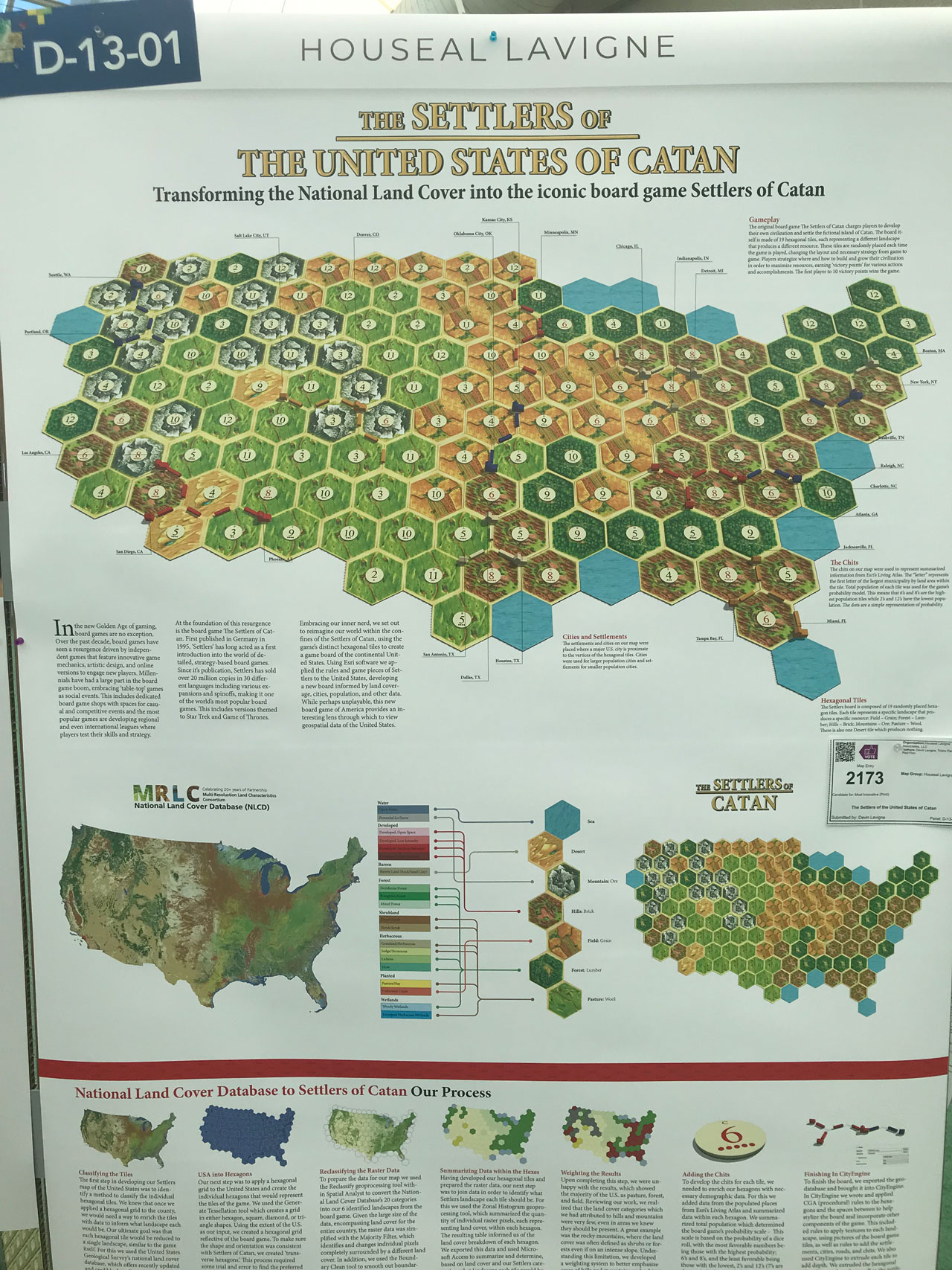 This map brings historic transportation data from Japan to life with modern technology. Tokyo Metropolitan University used ArcGIS Desktop 10.5.1 to create this spatial-temporal map of daily streetcar passengers in the 1930s that were counted by observation.
Walk through the gallery like a UC attendee by visiting the online map gallery.
Recognition for A Map Well Done
One thing I always wondered about going to the UC is: How does it feel to attend the conference as a nominee and leave as an Esri award winner? I asked some winners from the Special Achievement in GIS Award ceremony on Wednesday about their experience and their work. Here's what they shared:
I talked with David Sutton, Director of GIS for Savills in New York. Savills won an award for the Knowledge Cubed platform, that hosts one single point of entry to interactive maps and data sources for real estate. He describes one of the feature maps in the platform is a 3D interactive map that allows you to set your search criteria to reveal only a selection of a 3D environment based on your inquiry. From there, you can explore the real estate's analytics that incorporates Esri's Business Analyst data and collection of other sources created with the Viewshed feature in ArcGIS Pro‌.
You can learn how to Perform Viewshed Analysis in ArcGIS Pro in this Esri Academy Web Course.
The industry of real estate is a competitive market, and Sutton was proud to be recognized and "crush the competition" when it comes to creating dynamic experiences for their clients that can stand out from the rest.
"It feels good to get recognition. We worked hard on something and people noticed," said Sutton.
A similar concept of an immersive 3D experience got Young Scholar winners Daniel Laumer and Hasret Gümgümcü of ETH Zurich, Switzerland recognized for their project Urban X. Urban X used Esri's City Engine to create an urban planning app for Microsoft HoloLens, a mixed reality headset that displays interactive virtual holograms. With their application, you can interact with 3D rendered real estate to get data on the buildings and color code units based on their attributes.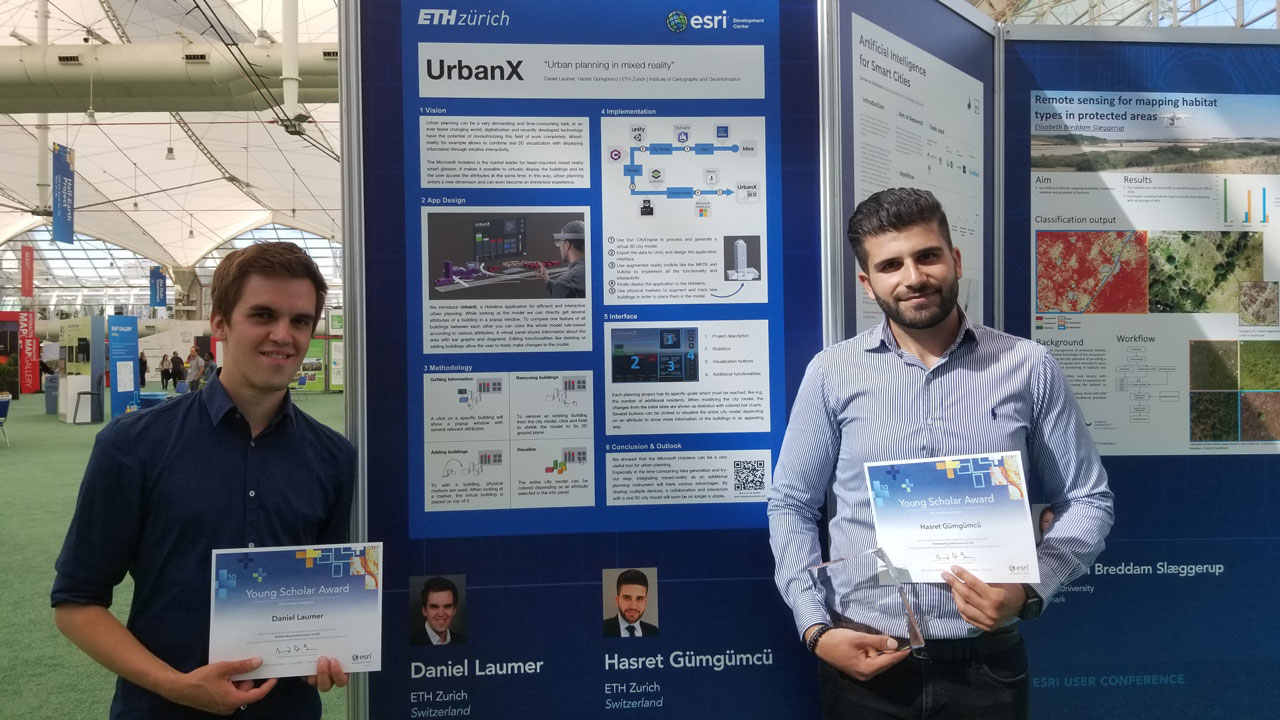 Esri's Research & Development worked with ETH Zurich's lab to provide the opportunity for Daniel and Hasret to push the boundaries of augmented reality.
I asked Daniel about what they learned so far at the UC. Daniel said, "We learned a lot more about ArcGIS Pro, and we thought we knew a lot about ESRI, but there's so much more than we already knew." He describes being there for the first time has been an amazing experience.
When I asked about how it feels to be a winner, all while taking in his first time at the UC, Hasret said with a smile, "It feels pretty nice."
Daniel describes his interest in GIS started with the love of maps. "I've always loved maps, which is what got me interested in the field, but I'm also interested in technology and coding. GIS is the perfect combination." Hasret feels the same. He always loved maps as a child and combining the ability of software engineering with something he already has an interest in makes GIS such an inspiring industry with great opportunity for innovation.
If you would like to know who else went home feeling like a winner, see the Special Achievement in GIS Award webpage.
Being recognized for hard work and dedication doing something you love is always a great feeling. The walls of the User Conference capture this inner passion and drive the best. I bet they've all felt this at some point…
More highlights:
Highlight #1: The Expo Experience at Esri UC 2019
Highlight #2: Maps and Their Makers at UC 2019
Highlight #3: Plenary Focuses on Our Community, Our World
Highlight #4: GeoNet Community Unites, Shares Stories
Highlight #5: Stats from UC 2019, Map Gallery and GeoNet Award Winners
1 Comment
You must be a registered user to add a comment. If you've already registered, sign in. Otherwise, register and sign in.