Mark as New

Mark as Read

Bookmark

Subscribe

Email to a Friend
Day-3 and we have walked many steps over the last few days. How many of you are reaching more than 15,000 steps before 5 p.m.? Think of all the calories you are burning this week.
We wrapped day 2 with great conversations at the GeoDev Meetup‌ last night. Thank you for the engaging discussion, John Hickok‌. Be sure to tell your students and co-workers about GeoNet.
Today we bring you so much more as it is our busiest day at the User Conference. The GeoNet team is on the move at our GeoNet Expo booth, at sessions, and at the events.
Esri 5K Run
With the rise of the sun, Esri UC Attendees put on their running shoes and took a crisp run at the Esri UC 5k. You can watch the footage of the 5k Run on Instagram.
WeCan and Women in GIS Activities
We kicked off the morning at the "WeCan Empower Your Voice" workshop where we met with many amazing women in tech and heard from Ali Rose‌, Karen Kemp‌, Lilian Coral‌, and Paulette Brown-Hinds discuss empowerment, having to speak up and how having a voice has impacted their careers in the positive and negative.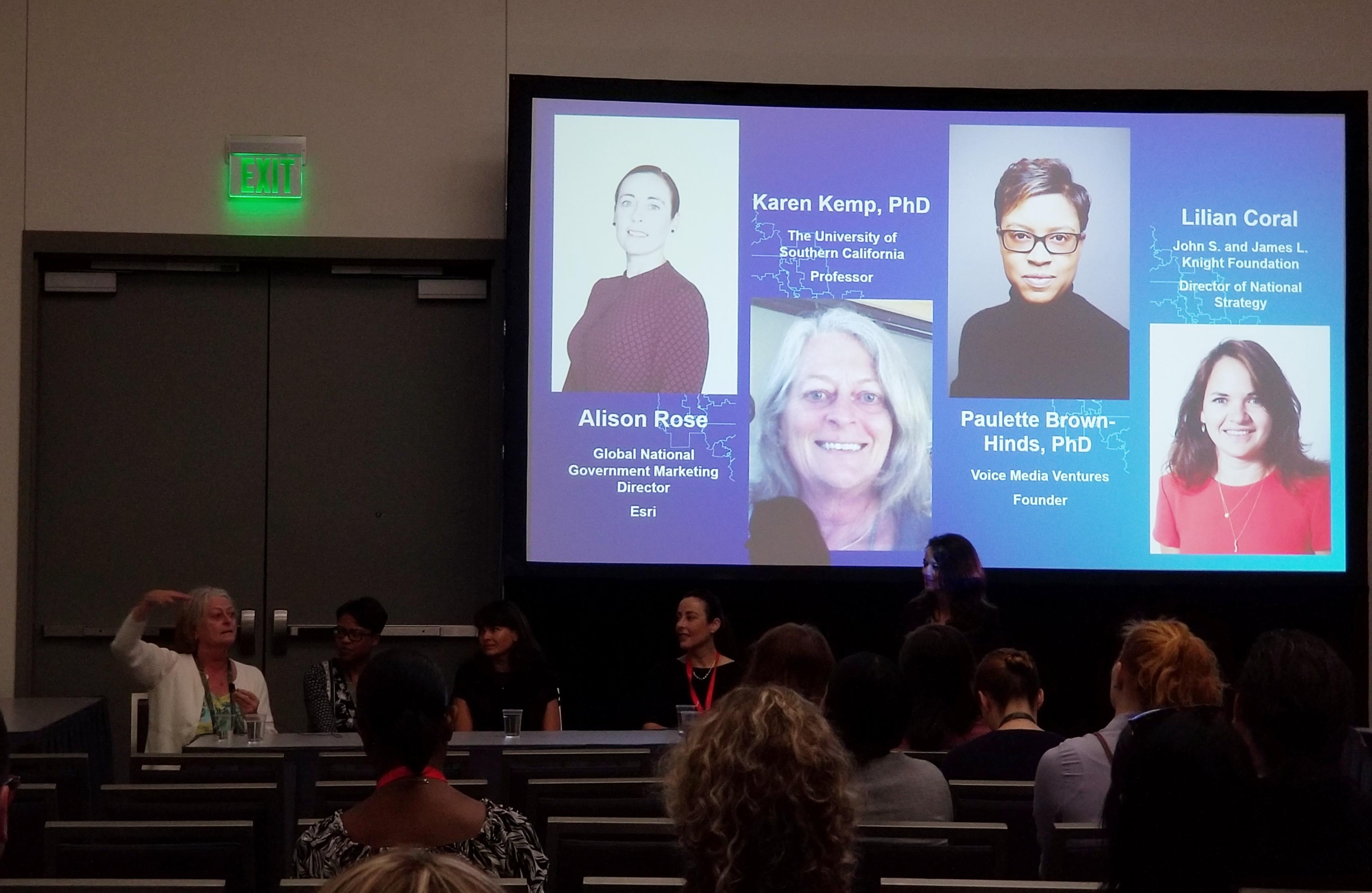 Left to right: Karen Kemp, Ph.D., Paulette Brown-HInds, Ph.D., Lilian Coral, and Ali Rose
Ali Rose, GLobal National Government Marketing Director - Esri shares moment a defense meeting when she had to speak up at committee meetings to come up with a solution for a defense concern, "It was hard to speak up, but I did."
Lilian Coral, Director of National Strategy - John S. James L. Knight Foundation tells about the beginning of her career and her mission to improve public safety while she worked for a politician after grad school. Her defining moment was during this first role when she had to negotiate for pay increases for a unit that of poorly paid medical employees and she had to hold out for a satisfying pay for this unit.
Paulette Brown-HInds, Ph.D., Founder - Voice Media Ventures shares when she started writing editorials that were impactful, had the power to make changes and drew the attention of politicians and city officials. She realized then that her voice had a chance to make an impact. She became more of a civic leader as a result of using her voice in her editorials.
Karen Kemp, Ph.D., Professor - University of Southern California leads off with taking the opportunities and not knowing where it will take you. She says, "Follow your gut and follow your heart." She says she didn't realize that she was experiencing a life-changing event until later. She took a career on a GIS project that would evolve into the leading GIS curriculum for the next 20 years.
Their advice for success: mentorship, clarity about what you want to do for your life, be mission-oriented, know what is important to you when it comes to your life and career, listen and be respectful, and don't fear change.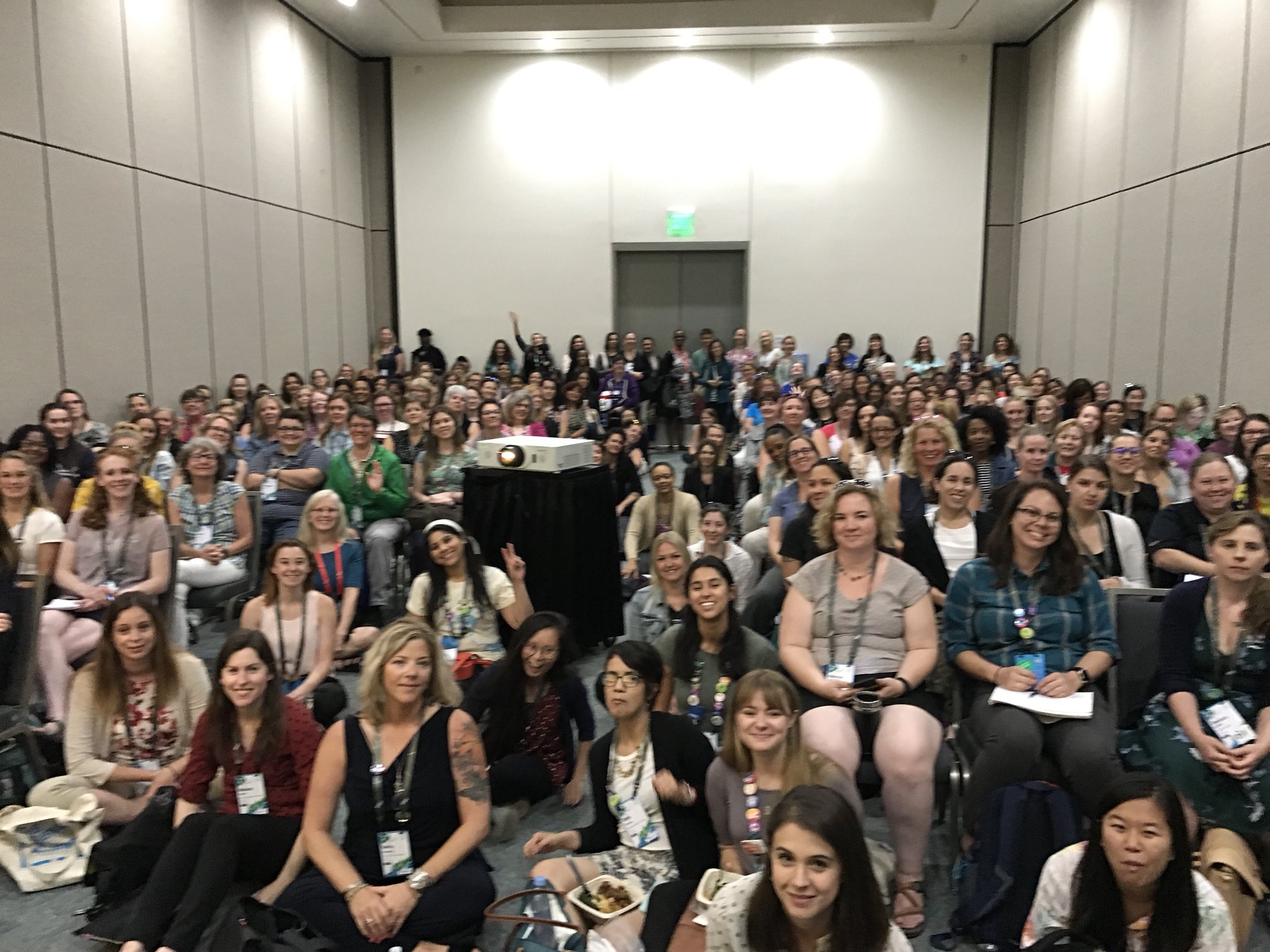 It was a full house at the Women in GIS Luncheon where Dawn Wright and others shared inspirational words with the women in the room. They gave a brief overview of WiGIS and a call to action for mentors, volunteers, and sponsorship opportunities.
If you want to know more about WeCAN (Esri's own "Women's Empowerment & Career Advancement Network") please reach out to Margot Manasevit at MManasevit@esri.com. For information about WiGIS, you can send an email to admin@womeningis.org.
At the Expo
Throughout the day we had many visitors stop by the GeoNet Espo booth in the Lifelong Learning.
Family Night
Michelle Mathias ‌and many UC attendees brought their families to the Family Night where they enjoyed activities, conversation and had a chance to see what makes their parents job so cool. It's not just about maps; there are pirates, Cityworks Sam, yo-yos, VR video games, and giant bouncing globes.
| | |
| --- | --- |
| Conterra had Pirates at Family NIght | Cityworks Sam danced with everyone. |
| Pam brought her children to Family NIght for VR fun in the HP Expo Area. | Schneider Electric had a giant globe. Imagine volleyball with that. |
| Grape photo displays at the Leica Expo area. | Light-up yo-yos at the Digital Globe Expo area for the kids. |
GeoNet Meet-Up
We were excited to meet our GeoNet members and learn more about why they visit GeoNet and hear their feedback about their GeoNet Community experience. Chris tells the attendees about GeoNet's recent accomplishments and statistics as well as what is to come. Thank you for coming and sharing. It is great to put faces to our members.Left-right: ChrisCatania‌, Chris Donohue, GISP‌, Lili Tran‌, Maneet Goyal‌, Michelle Mathias‌, Seth Lewis‌, and the Lithium Technologies Team -Brian, Jayme, Becky, and Ross.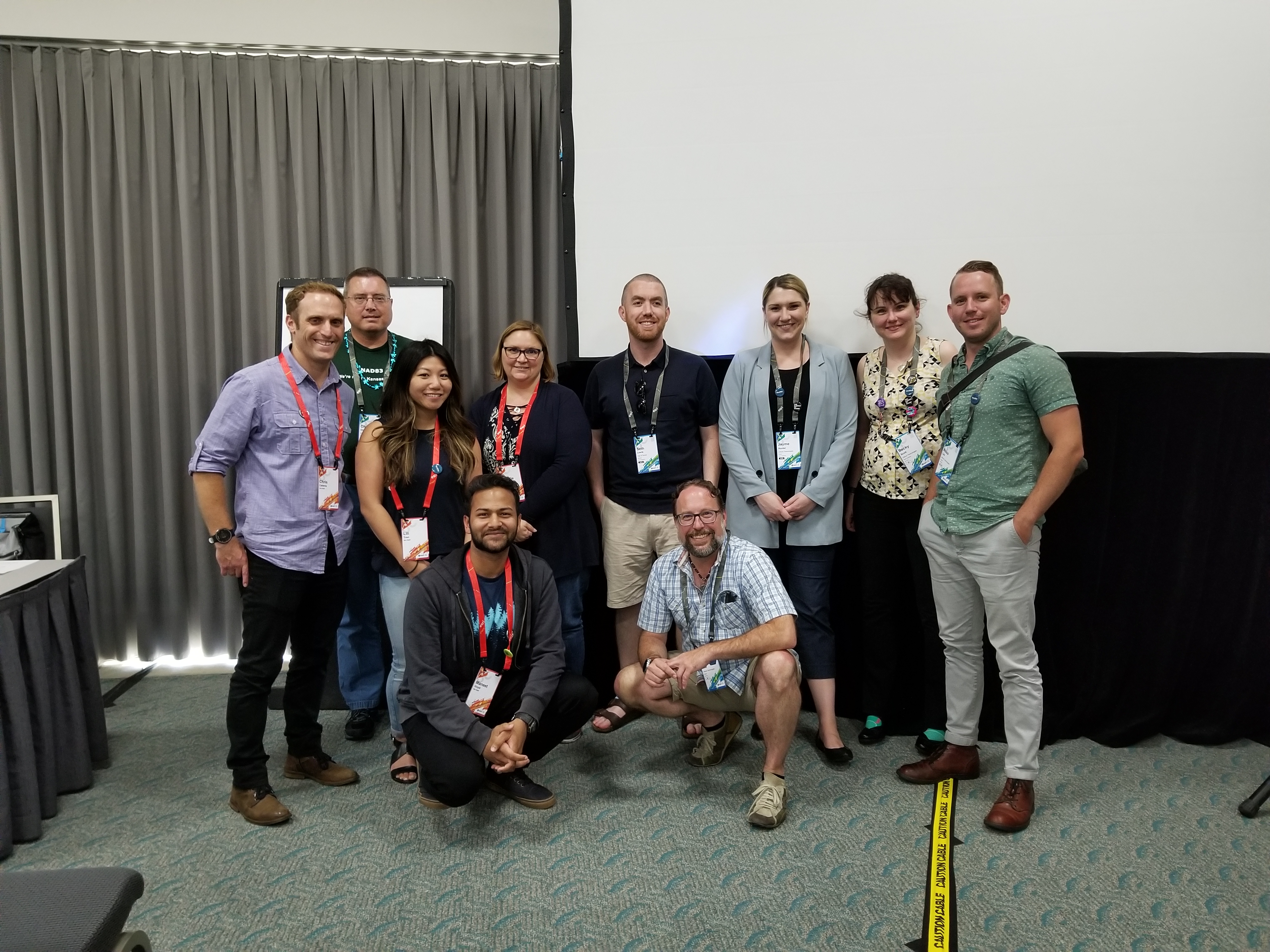 It was shoulder-to-shoulder at the Esri YPN Evening Social on the breezy Hilton Pool Terrace. Shared great conversations with new connections.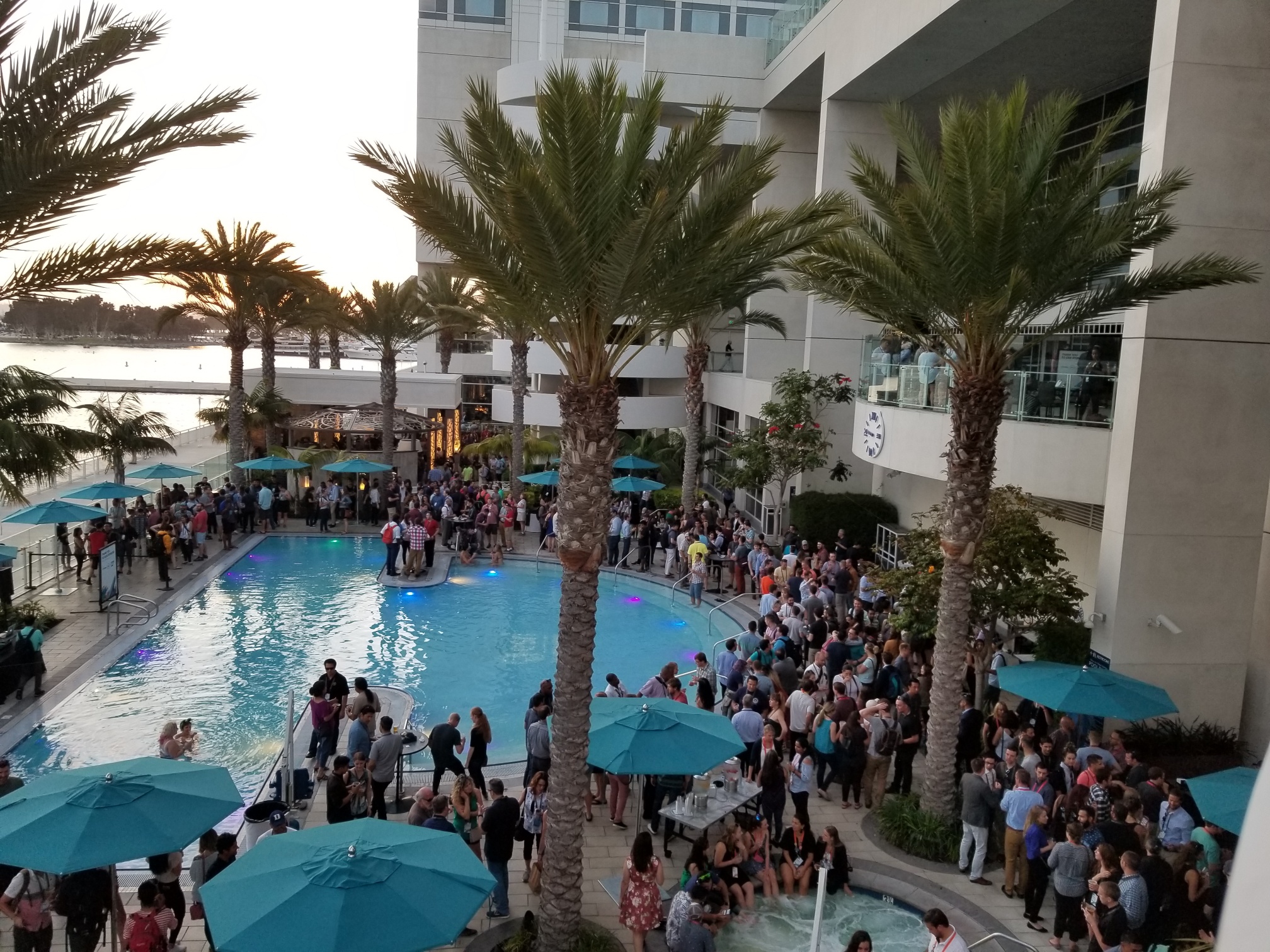 If you missed the action yesterday, you can go back and read all about it at Esri UC 2018 Day 2 Updates‌. We will have more to come in a Day-4 update tomorrow including the Thursday night party. Will this one be more exciting than DevSummit 2018 Day Three? How much fun have you had this week?
4 Comments
You must be a registered user to add a comment. If you've already registered, sign in. Otherwise, register and sign in.