Occasional Contributor
Mark as New

Bookmark

Subscribe

Mute
Hello.
Every day I get a feed of the previous days data which I format into a .csv which I then want to update in a geodatabase. This is a multi scipt process that works very well until I get to the appending into the geodatabase. What is very strange up until a weel ago it worked perfectly. Now I get a Failed To Execute (XYTableToPoint) message.
I apologize for the heavily redacted script (top of image) and log (bottom of image).
I'm interested to see if anyone sees a glaring issue particularly as it worked a week ago, the .py file data hasn't changed, when I open the geodatabase the layer is there and the fields it says aren't in the table are in the table.
I'm very sure I'm actualling looking at the correct file unless a temp file is getting produced.
All the best,
GR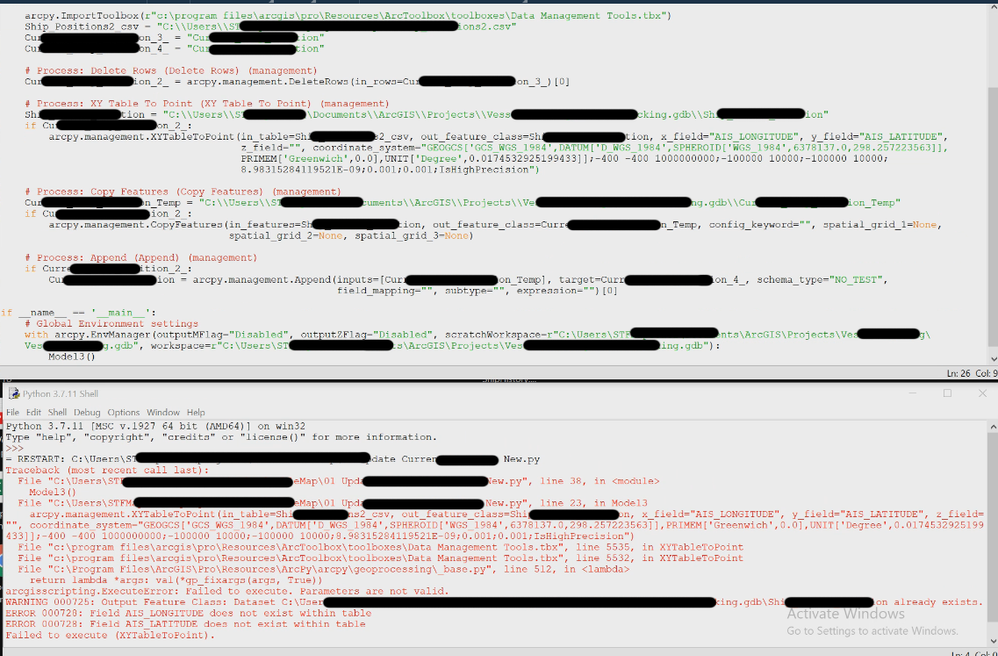 3 Replies
Occasional Contributor
Mark as New

Bookmark

Subscribe

Mute
Are you sure your CSV is still (formatted in) the same (way)? It looks like the field you are expecting lat/long in does not excist in the table... Default (system) separator still the same?

Occasional Contributor
Mark as New

Bookmark

Subscribe

Mute
Occasional Contributor
Mark as New

Bookmark

Subscribe

Mute
It looks like the ArcGIS csv parser doesn't like the asterisks in your csv, when I remove them it does load correctly