Regular Contributor
Mark as New

Bookmark

Subscribe

Mute

Email to a Friend
I originally posted the question under the following post: Python solution to convert single column into multiple columns but its seems I didn't explain clearly what I'm trying to achieve. I hope the following is a lot clearer as I desperately need to solve the following as I have few hundred table to process.
I have generated summary statistics tables based on the results of an intersection. The summary statistics table format is as per below: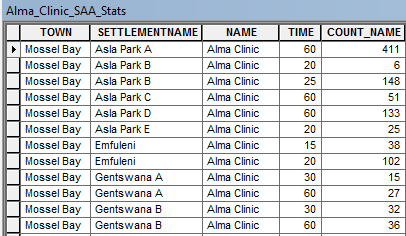 if you look at the following table as an example:
Mossel Bay, Asla Park B, Alma Clinic appears twice as there 6 buildings found within 20 minutes and 148 buildings within 25 minutes.
I need to convert the table structure so that there is one entry for:
Mossel Bay, Also Park B, Alma Clinic with the TIME field being split per interval (i.e. 5min, 10min - 60min) with the number of buildings (COUNT_NAME) being populated within the appropriate fields as per below: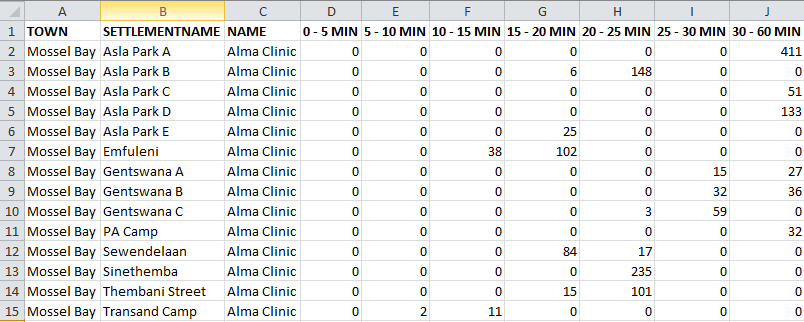 As you can see from the example above Mossel Bay, Asla Park B, Alma Clinic has a single row and the Number of buildings have been populated within the appropriate fields per time interval.
I've tried using ArcPy Data Access Module with no success as the rows are not unique so insert cursor wont work, can't use the update cursor as I'm trying to populate an empty table.
I was considering numpy, but would need some advice on how to get started and also considered python dictionaries and also realised my knowledge is limited at this stage. Any advice to solve the following would be appreciated.
21 Replies