Occasional Contributor
Mark as New

Bookmark

Subscribe

Mute
I got stuck when calculating the median age in grouped data (age ranges) for each feature (each feature is a single administrative unit). I have about 18,000 features.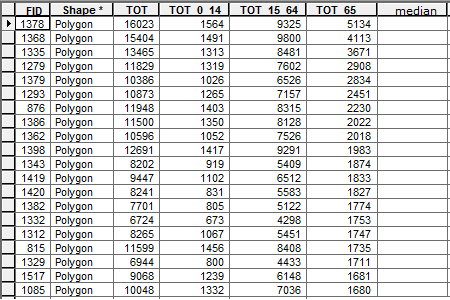 Field names indicate age ranges: 0-14, 15-64, 65-100. In the "median" field I would like to calculate the median age for each feature. I found a website https://atozmath.com/StatsG.aspx?q=1 where you can calculate such a median for a single feature, for example the first feature from the attribute table above.




The page easily calculated the median for the first feature in the image, and the page also wrote how it calculated it, but I don't know how to write a universal script for a "median" field to calculate the median for each feature.
1 Solution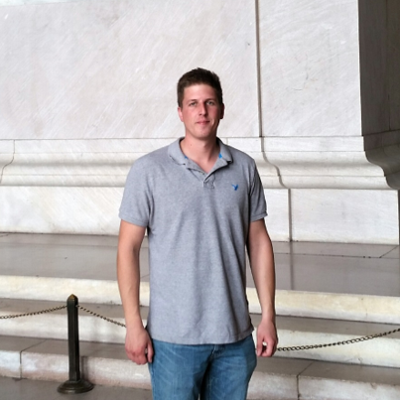 by
DavidPike

MVP Frequent Contributor
Mark as New

Bookmark

Subscribe

Mute
import

 arcpy

input_table 

=

 r

'put the path to your table here'





#lcb is the lower class boundary


width_age_range_1 

=

 

14.5


lcb_age_range_1 

=

 

0.0



width_age_range_2 

=

 

50.0


lcb_age_range_2 

=

 

14.5



width_age_range_3 

=

 

35.5


lcb_age_range_3 

=

 

64.5



median_list 

=

 

[

 

]





with

 arcpy

.

da

.

SearchCursor

(

input_table

,

 

[

"TOT"

,

 

"TOT_0_14"

,

  

"TOT_15_64"

,

 

"TOT_65"

]

)

 

as

 cursor 

:




    
    

for

 row 

in

 cursor 

:



        

#if all numeric fields hopefully


        n_over2 

=

 

(

row

[

0

]

/

2.0

)


        
        

if

 row

[

0

]

 

==

 

0

 

:


            median_list

.

append

(

-

9999

)


            

continue


         

        

if

 row

[

1

]

 

>=

 n_over2 

:


            

#cumulative freq of groups before median group


            cumu_freq 

=

 

0.0


            

if

 row

[

1

]

 

!=

 

0.0

 

:


                median 

=

 lcb_age_range_1 

+

 

(

 

(

(

n_over2 

-

 cumu_freq

)

/

row

[

1

]

)

 

*

 width_age_range_1

)


                median_list

.

append

(

median

)


                

continue


            

continue


        
        

if

 

(

row

[

1

]

 

+

 row

[

2

]

)

 

>=

 n_over2 

:


            

#cumulative freq of groups before median group


            cumu_freq 

=

 row

[

1

]

 
            

if

 row

[

2

]

 

!=

 

0.0

 

:


                median 

=

 lcb_age_range_2 

+

 

(

 

(

(

n_over2 

-

 cumu_freq

)

/

row

[

2

]

)

 

*

 width_age_range_2

)


                median_list

.

append

(

median

)


                

continue


            

continue



        

if

 

(

row

[

1

]

 

+

 row

[

2

]

 

+

 row

[

3

]

)

 

>=

 n_over2 

:


            

#cumulative freq of groups before median group


            cumu_freq 

=

 row

[

1

]

 

+

 row

[

2

]


            

if

 row

[

3

]

 

!=

 

0.0

 

:


                median 

=

 lcb_age_range_3 

+

 

(

 

(

(

n_over2 

-

 cumu_freq

)

/

row

[

3

]

)

 

*

 width_age_range_3

)


                median_list

.

append

(

median

)


                

continue


            

continue



        

else

:


            median_list

.

append

(

-

999

)





#for median in median_list:


    

#print(median)



counter 

=

 

0



    


with

 arcpy

.

da

.

UpdateCursor

(

input_table

,

 

[

"median"

]

)

 

as

 cursor 

:


    

for

 row 

in

 cursor 

:


        

if

 counter 

<

 len

(

median_list

)

:


            row

[

0

]

 

=

 median_list

[

counter

]


        
            

try

 

:


                cursor

.

updateRow

(

row

)


                counter 

+=

 

1


            

except

 

:


                

print

(

"error at count - "

  

+

 str

(

counter

)

)



        

else

:


            

break


        



print

(

"complete"

)

          

‍‍‍‍‍‍‍‍‍‍‍‍‍‍‍‍‍‍‍‍‍‍‍‍‍‍‍‍‍‍‍‍‍‍‍‍‍‍‍‍‍‍‍‍‍‍‍‍‍‍‍‍‍‍‍‍‍‍‍‍‍‍‍‍‍‍‍‍‍‍‍‍‍‍‍‍‍‍‍‍‍‍‍‍‍‍‍‍‍‍‍‍‍‍‍‍‍‍‍‍‍‍‍‍‍‍‍‍‍‍‍‍‍‍‍‍‍‍‍‍‍‍‍‍‍‍‍‍‍‍‍‍‍‍‍‍‍‍‍‍‍‍‍‍‍‍‍‍‍‍‍‍‍‍‍‍‍‍‍‍‍‍‍‍‍‍‍‍‍‍‍‍‍‍‍‍‍‍‍‍‍‍‍‍‍‍‍‍‍‍‍‍‍‍‍‍‍‍‍‍‍‍‍‍‍‍‍‍‍‍‍‍‍‍‍‍‍‍‍‍‍‍‍‍‍‍‍‍‍‍‍‍‍‍‍‍‍‍‍‍‍‍‍‍‍‍‍‍‍‍‍‍‍‍‍‍‍‍‍‍‍‍‍‍‍‍‍‍‍‍‍‍‍‍‍‍‍‍‍‍‍‍‍‍‍‍‍‍‍‍‍‍‍‍‍‍‍‍‍‍‍‍‍‍‍‍‍‍‍‍‍‍‍‍‍‍‍‍‍‍‍‍‍‍‍‍‍‍‍‍‍‍‍‍‍‍‍‍‍‍‍‍‍‍‍‍‍‍‍‍‍‍‍‍‍‍‍‍‍‍‍‍‍‍‍‍‍‍‍‍‍‍‍‍‍‍‍‍‍‍‍‍‍‍‍‍‍‍‍‍‍‍‍‍‍‍‍‍‍‍‍‍‍‍‍‍‍‍‍‍‍‍‍‍‍‍‍‍‍‍‍‍‍‍‍‍‍‍‍‍‍‍‍‍‍‍‍‍‍‍‍‍‍‍‍‍‍‍‍‍‍‍‍‍‍‍‍‍‍‍‍‍‍‍‍‍‍‍‍‍‍‍‍‍‍‍‍‍‍‍‍‍‍‍‍‍‍‍‍‍‍‍‍‍‍‍‍‍‍‍‍‍‍‍‍‍‍‍‍‍‍‍‍‍‍‍‍‍‍‍‍‍‍‍‍‍‍‍‍‍‍‍‍‍‍‍‍‍‍‍‍‍‍‍‍‍‍‍‍‍‍‍‍‍‍‍‍‍‍‍‍‍‍‍‍‍‍‍‍‍‍‍‍‍‍‍‍‍‍‍‍‍‍‍‍‍‍‍‍‍‍‍‍‍‍‍‍‍‍‍‍‍‍‍‍‍‍‍‍‍‍‍‍‍‍‍‍‍‍‍‍‍‍‍‍‍‍‍‍‍‍‍‍‍‍‍‍‍‍‍‍‍‍‍‍‍‍‍‍‍‍‍‍‍‍‍‍‍‍‍‍‍‍‍‍‍‍‍‍‍‍‍‍‍‍‍‍‍‍‍‍‍‍‍‍‍‍‍‍‍‍‍‍‍‍‍‍‍‍‍‍‍‍‍‍‍‍‍‍‍‍‍‍‍‍‍‍‍‍‍‍‍‍‍‍‍‍‍‍‍‍‍‍‍‍‍‍‍‍‍‍‍‍‍‍‍‍‍‍‍‍‍‍‍‍‍‍‍‍‍‍‍‍‍‍‍‍‍‍‍‍‍‍‍‍‍‍‍‍‍‍‍‍‍‍‍‍‍‍‍‍‍‍‍‍‍‍‍‍‍‍‍‍‍‍‍‍‍‍‍‍‍‍‍‍‍‍‍‍‍‍‍‍‍‍‍‍‍‍‍‍‍‍‍‍‍‍‍‍‍‍‍‍‍‍‍‍‍‍‍‍‍‍‍‍‍‍‍‍‍‍‍‍‍‍‍‍‍‍‍‍‍‍‍‍‍‍‍‍‍‍‍‍‍‍‍‍‍‍‍‍‍‍‍‍‍‍‍‍‍‍‍‍‍‍‍‍‍‍‍‍‍‍‍‍‍‍‍‍‍‍‍‍‍‍‍‍‍‍‍‍‍‍‍‍‍‍‍‍‍‍‍‍‍‍‍‍‍‍‍‍‍‍‍‍‍‍‍‍‍‍‍‍‍‍‍‍‍‍‍‍‍‍‍‍‍‍‍‍‍‍‍‍‍‍‍‍‍‍‍‍‍‍‍‍‍‍‍‍‍‍‍‍‍‍‍‍‍‍‍‍‍‍‍‍‍‍‍‍‍‍‍‍‍‍‍‍‍‍‍‍‍‍‍‍‍‍‍‍‍‍‍‍‍‍‍‍‍‍‍‍‍‍‍‍‍‍‍‍‍‍‍‍‍‍‍‍‍‍‍‍‍‍‍‍‍‍‍‍‍‍‍‍‍‍‍‍‍‍‍‍‍‍‍‍‍‍‍‍‍‍‍‍‍‍‍‍‍‍‍‍‍‍‍‍‍‍‍‍‍‍‍‍‍‍‍‍‍‍‍‍‍‍‍‍‍‍‍‍‍‍‍‍‍‍‍‍‍‍‍‍‍‍‍‍‍‍‍‍‍‍‍‍‍‍‍‍‍‍‍‍‍‍‍‍‍‍‍‍‍‍‍‍‍‍‍‍‍‍‍‍‍‍‍‍‍‍‍‍‍‍

‍

‍

‍

‍

‍

‍

‍

‍

‍

‍

‍

‍

‍

‍

‍

‍

‍

‍

‍

‍

‍

‍

‍

‍

‍

‍

‍

‍

‍

‍

‍

‍

‍

‍

‍

‍

‍

‍

‍

‍

‍

‍

‍

‍

‍

‍

‍

‍

‍

‍

‍

‍

‍

‍

‍

‍

‍

‍

‍

‍

‍

‍

‍

‍

‍

‍

‍

‍

‍

‍

‍

‍

‍

‍

‍

‍

‍

‍

‍

‍

‍

‍

‍

‍
53 Replies