New Contributor
Mark as New

Bookmark

Subscribe

Mute

Email to a Friend
Hello!
I am trying to use 'Generate Stop-Street Connector' tool from 'Add GTFS to network dataset' toolbox. I recently downloaded the toolbox from here: Add GTFS to a Network Dataset and added it to ArcMap.
But when I run the 'Generate Stop-Street Connector' tool, it is not working and I am getting an error message like the screenshot attached here. What can I do to address this error?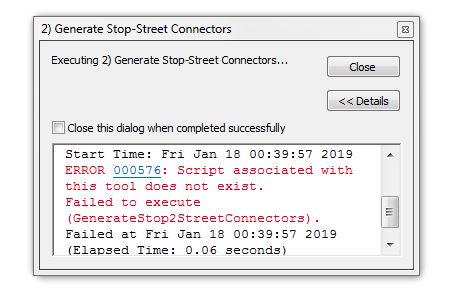 1 Solution

Esri Regular Contributor
Mark as New

Bookmark

Subscribe

Mute

Email to a Friend
This error message is the key to identifying the problem:
Execute: "C:\Program Files (x86)\Common Files\ArcGIS\bin\ESRIRegAsm.exe" "C:\Program Files (x86)\ArcGIS\Desktop10.5\ArcToolbox\Toolboxes\EvaluatorFiles\TransitEvaluator.dll" /p:Desktop /s
Registration of TransitEvaluator.dll was not successful.
When you install the tool, there is a dll called TransitEvaluator.dll which must be "registered" with ArcMap so that ArcMap knows that it can use this dll. It's like telling ArcMap, "hey, here's a new dll that's part of you now.". (This dll contains the special transit evaluator necessary for using network datasets that contain transit data.) ArcMap comes with a utility, ESRIRegAsm.exe, which takes care of registering new dlls. However, in this case, for some reason the registration process is failing, and I don't know why, and I don't know how to find out why. This type of problem is very frustrating! It's almost always some quirk of the user's machine set-up or their installation of ArcMap.
I don't know what to suggest except a couple of probably not-too-helpful things:
1) Do you have another computer with ArcMap you can use instead? Maybe another machine won't have the same error.
2) Do you have the ability to re-install ArcMap on your machine or to upgrade to the latest release (10.6.1) of ArcMap? The tool should work correctly on 10.5, but since it's not, it might be worth trying something else.
12 Replies