MVP Regular Contributor
Mark as New

Bookmark

Subscribe

Mute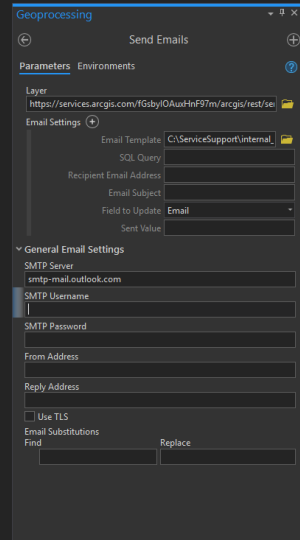 I'm not sure if this the right place to post my question. I'm working on a Citizen Problem Reporter app. There's a Geoprocessing tool called Send Emails. I'm stuck on the Send Email Notifications section (pg. 34) question 9, 10:
https://www.esri.com/content/dam/esrisites/en-us/media/pdf/learn-arcgis/configuring-citizen-problem-...
How do I set this up? I'm able to view/edit the HTML it's referring to. I need help deciphering the two small paragraphs in questions 9 & 10.


1 Solution

MVP Regular Contributor
Mark as New

Bookmark

Subscribe

Mute
Eventually I got it to work with some help from Esri. What you said in the first part of your post is correct.
And as far as setting the SQL Query goes, you can either use emailstatus is Null or emailstatus=''. In the Field to Update you choose the Email Status field. And in the Sent Value field put Sent.
So when a problem is submitted and servicefunctions.py script runs an email will be sent and the Email Status field will be populated with Sent. The next time the script runs no new emails will be sent for that problem because the field doesn't meet the query-- as it's not Null or empty, rather Sent.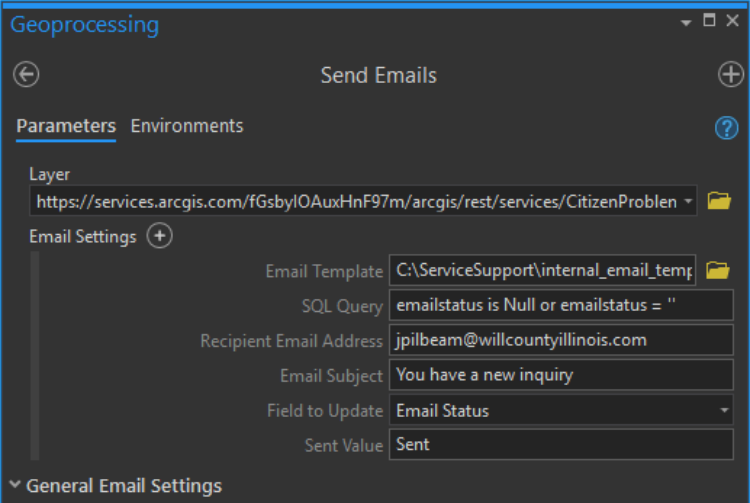 8 Replies