Occasional Contributor II
Mark as New

Bookmark

Subscribe

Mute
Hi there,
I'm wondering if there is a geoprocessing tool which could assist me with identifying (on a high level) suitable parcels for subdividing.
Basically, I have parcels and buildings and would like to identify parcels which would have enough space for a second (or third,...) building on it.
e.g. the four parcels below (green) would have enough space for a second building (green circle).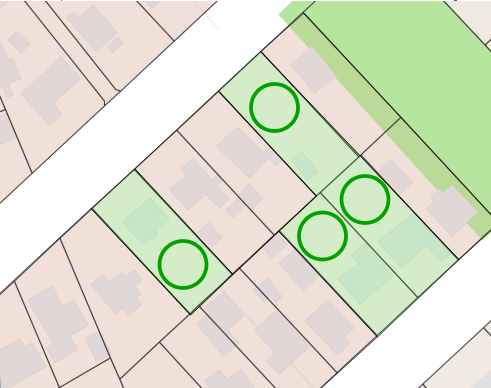 Does anyone have something in mind?
Cheers,
Marco
1 Solution

Occasional Contributor II
Mark as New

Bookmark

Subscribe

Mute
Alright, the tool was not quite what I was looking for, since this would result in areas which would be to small (or thin) for a potential additional building.
However, I had a workaround to identify areas with a diameter ≥ X meters :
Negative buffer (where buffer distance = - X/2) of the parcels
Positive buffer (where buffer distance = X/2) of the buildings
Erase buildings buffer from parcel buffer
Positive buffer (where buffer distance = X/2) to remaining area
This gave me exactly what I wanted to have

Cheers,
Marco
4 Replies