Occasional Contributor II
Mark as New

Bookmark

Subscribe

Mute
I am trying to append many individual feature classes in a geodatabase into one singe feature class in a different geodatabase using modelbuilder.
I created a collect values model, and inserted it into an append model (you just drag and drop?? in arcMap you could add sub-models), the collect values just lands in the model, but I cannot attach it to either append or merge tool - the input list is not recognized. And since arcGIS pro does not have the connector tool you can't connect one output to tool.
I have also tried iterate datasets, but have the same problem. I am following what is described in the help - collect values into a list and then append (https://pro.arcgis.com/en/pro-app/tool-reference/modelbuilder-toolbox/collect-values.htm) Can anyone help?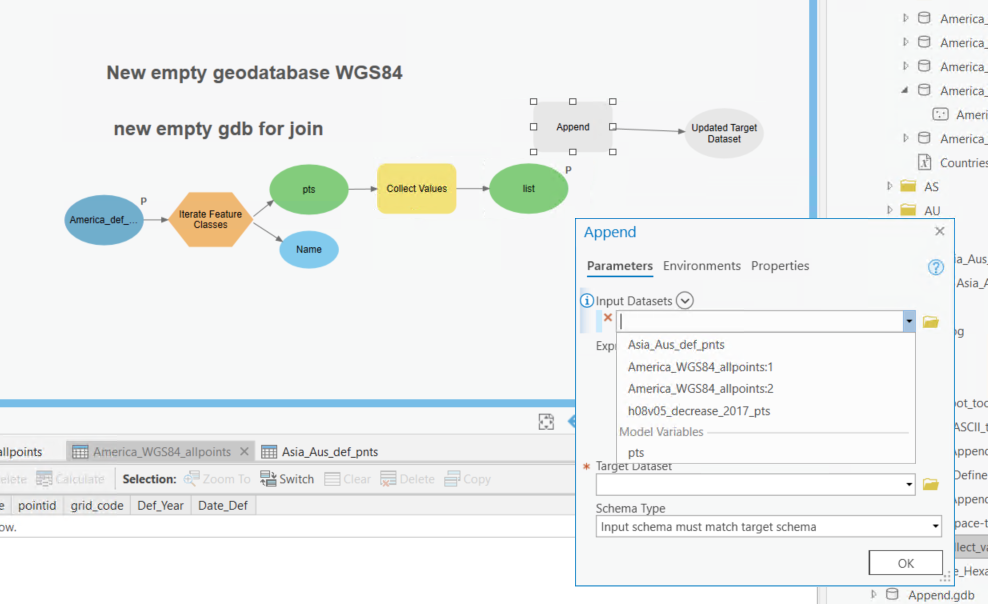 Another problem though is that my output geodatabase does not have the proper extent of all my different feature classes (i.e. when I do it by hand using the Append tool, it only takes the spatial extent of the first item in my append list). Anyone know how to fix this? How do you combine feature classes that are in "tiles" into one large feature class?
1 Solution

Occasional Contributor III
Mark as New

Bookmark

Subscribe

Mute
Du you really need the collect value step? Wouldn't it be enough to iterate feature classes and then append?
4 Replies