Mark as New

Bookmark

Subscribe

Mute
Hi,
Here's some issue that make Model stop working.
Build Balanced Zones instrument needs at least 2 as a value of Number of Zones parameter.
I want to get the value of Number of Zones from attribute table (using Get Field Value) and put it into Build Balanced Zones instrument. But until Get Field Value worked its output value is 1 so Build Balanced Zones sees "1" as parameter and is inactive in ModelBuilder Window. When I start the model Get Field Value gets 6 as an output value but Build Balanced Zones doesn't get it and stills inactive. As a result Model stops at this step.
Anybody have ideas how to solve this issue?
P.S. I'm using ArcGIS Pro 2.4.1
3 Replies

by
curtvprice

MVP Esteemed Contributor
Mark as New

Bookmark

Subscribe

Mute
Perhaps you could post a screen shot of your model?
Mark as New

Bookmark

Subscribe

Mute
It's realy big, but I can reproduce the logic I've described.
Here's an illustration: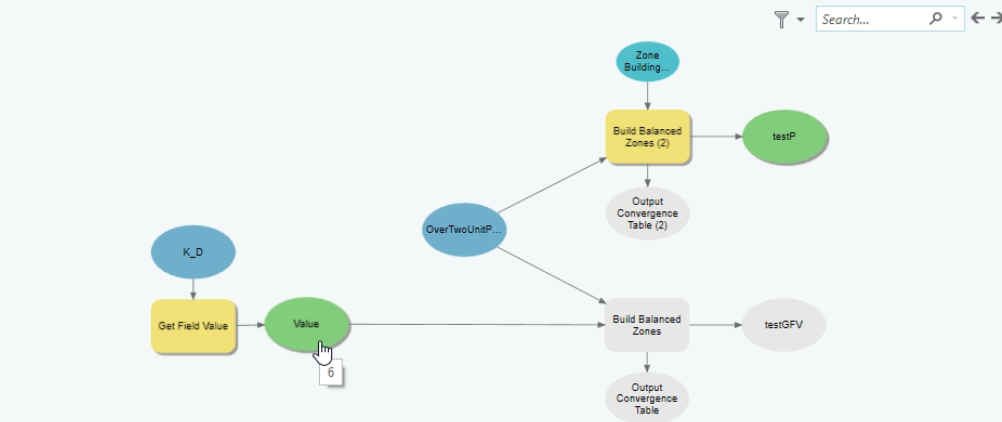 I've found another issue. So two branches of BBZ are shown.
You can see in pop-up that Value used as "Number of zones" is greater than 1. But BBZ doesn't see it and is not active.
On top BBZ is configured for Attribute target. And it works if I change the Sum value inside the instrument configuration window (I have different results depending on Sum value). But when I create parameter from "Zone building criteria with target" and try to change it - BBZ doesn't see any changes (result is the same).
Mark as New

Bookmark

Subscribe

Mute
Curtis Price's Blog‌ sorry for marking like that, Curtis. I'm desperate to find answer, so maybe you have some ideas as you asked a screen of a model?