Mark as New

Mark as Read

Bookmark

Subscribe

Email to a Friend
Die neue Esri Training Seite ist kürzlich ins Leben gerufen worden. Der Trainingskatalog bietet mehr als 400 Kurse zum Großteil kostenfrei an und ist selektierbar. Aus "All Learning Formats" kann ausgesucht werden an wen der Kurs gerichtet sein soll, z.B. Application Developers. Außerdem ist auch die ArcGIS Version wählbar. Das Programm bietet zu diesem Beispiel 3-4-stündige Webinare, sowie mehrtägige Trainer geführte Kurse an.
Viele Trainingseinheiten richten sich speziell an Entwickler. Wie etwa für Mobile Entwickler das 60-minütige Webinar "Develop Offline Apps - Using the ArcGIS Runtime SDKs". Ein mobiler Zugriff auf Daten kann ein echter Wettbewerbsvorteil sein. Offline-Zugriff wird vorwiegend an abgelegenen Orten benötigt.
Oder aus einem ganz anderen Bereich: Hydrologische Daten sollen analysiert werden - Dann ist der Kurs "Elevation Analysis with ArcGIS Online" sicherlich eine gute Wahl. In diesem Kurs zeigen wir wie Neigungen und die Fließrichtung von Wasser berechnet werden. Dies sind nur wenige Beispiele aus dem riesigen Angebot.

Welche verschiedenen E-Learning Programm gibt es?
Web Courses von 60 Minuten über mehrere Stunden
MOOCS
Videos und vieles mehr
Instruction Led Training Seminare dauern zwei bis drei Tagen. Die eigene "Wish List" trägt dazu bei die persönliche Lernumgebung zu kreieren
Auch ein Certification Exam kann erworben werden.
Im Dashboard unter "My Learning" kann der eigene Wissensstand verfolgt werden. Für die Teilnahme an dem Programm wird ein Esri Account benötigt. Wie dieser angelegt wird ist hier beschrieben. Allgemeine Fragen werden ebenfalls beantwortet.
Einer der großen Vorteile, der neuen Esri Training Webseite sind die Learning Plans.
Super für das Selbststudium ist auch die Lektionsgalerie. Mehr als 30 einzelne Themen aus unterschiedlichen Branchen sind thematisch gegliedert und in Lektionen beschrieben. Als Beispiel: Die Spuren des Waldbrands - neben einer Projektbeschreibung erläutern wir welche Kenntnisse erzielt werden sollen und welche Esri Software benötigt wird.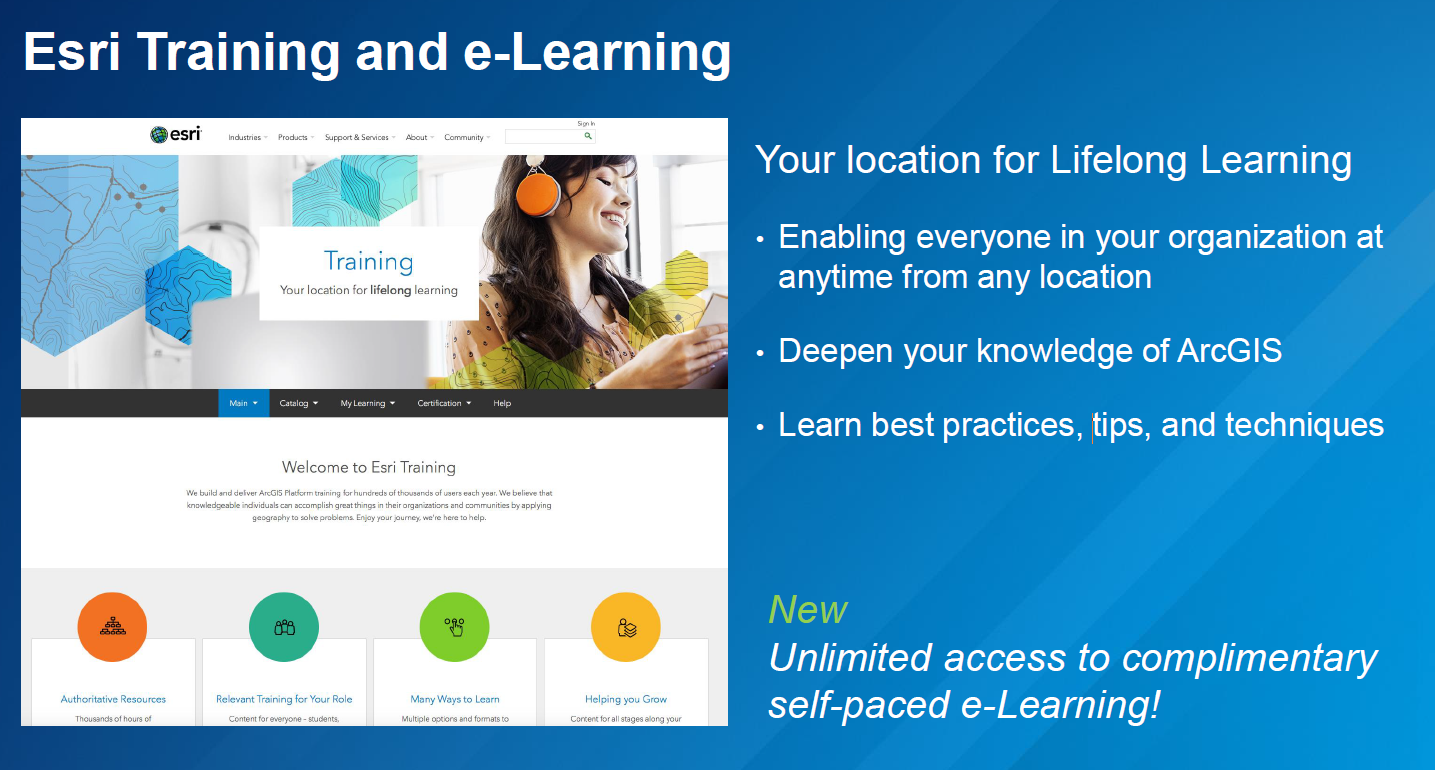 training Schulung technical certification
You must be a registered user to add a comment. If you've already registered, sign in. Otherwise, register and sign in.