Regular Contributor
Mark as New

Bookmark

Subscribe

Mute

Email to a Friend
Live AMA Event on GeoNet
Tuesday, April 24, 10:30 a.m. - 11:30 a.m. (PDT)
We invite you to join The Location Advantage MOOC instructors John Shramek‌ and Joseph Kerski here on the GeoNet Community for a LIVE AMA (Ask Me Anything) event. The AMA will take place in this discussion thread on Tuesday, April 24, 2018, from 10:30 a.m. - 11:30 a.m. (PDT).
*Click HERE to convert exact time for different countries.
This is an opportunity to ask the Location Advantage MOOC instructors questions about the course, about earth imagery data, Esri software, GIS or anything else that comes to mind.
How does the AMA work?

During the AMA, you can post your questions by clicking  the "Add Reply" button below and John and/or Joseph will reply to your questions in comments. You are welcome to post questions ahead of the AMA and they will answer them during the AMA.

Please note: You must be logged in to post questions and see responses. Please see instructions on How to Log into GeoNet for the AMA. 

 

                      
AMA Tips and GeoNet Community Guidelines
When asking questions and comments during the AMA, remember to follow the GeoNet Community Guiding Principles‌: Be Helpful, Be Human, Be Smart.
This discussion page will not auto-refresh, so please remember to refresh this page to see new questions, comments and replies.

Please note: The AMA will be live when you see a picture below with John and Joseph.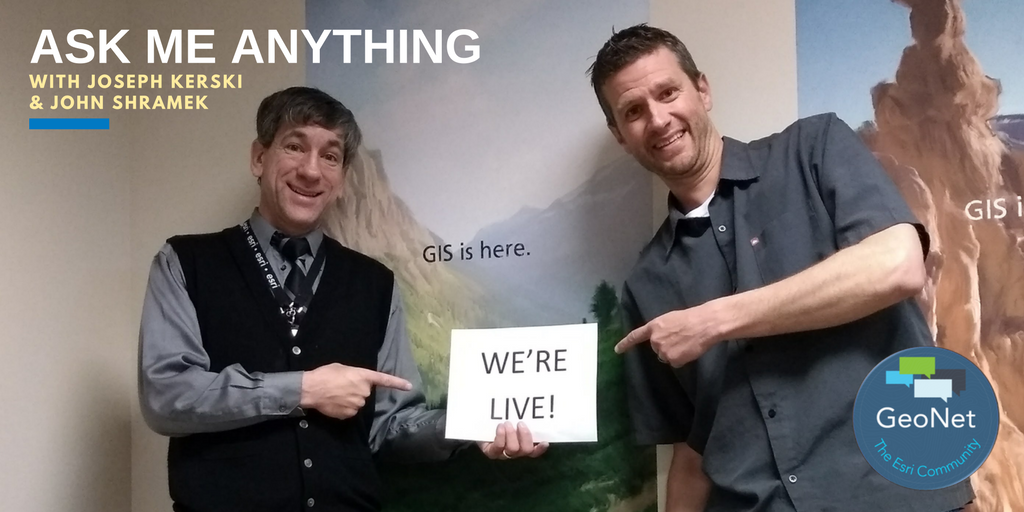 10:30 a.m. - And we're live! Go ahead and ask your questions!

10:45 a.m. - If you are just joining us, feel free to ask any question.

11:00 a.m. - We're halfway through, Great questions! Keep them coming!
11:15 a.m. -

If you are just joining us, feel free to ask any question.

11:25 a.m. - Five minutes to go! Got any last minute fun questions for John and Joseph?

11:30 a.m. - And that's a wrap! The live AMA has ended with John and Joseph.
Thank you for your questions and participation. Feel free to continue to post your questions and we will answer them.
18 Replies