Mark as New

Mark as Read

Bookmark

Subscribe
On Day 2 of DevSummit, Jim McKinney welcomed back attendees and turned things over to Sud Menon to overview our ArcGIS System.
ArcGIS: System Overview and Highlights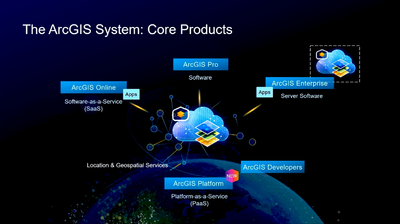 What's New and What's Coming: Core Products
For ArcGIS Pro, Sud highlights the latest release now has Global Navigation Satellite System (GNSS) and global positioning system (GPS) Device Support and Building Information Modeling (BIM) in International Foundation Class (IFC) formats.
Expect the new release for ArcGIS Enterprise in May 2021 to include ArcGIS Enterprise on Kubernetes. ArcGIS Enterprise on Kubernetes is a new deployment option that supports scalability, resiliency, software delivery, and container orchestration. This cloud native architecture solution will be available for Red Hat OpenShift, Azure AKS, and AWS EKS, with plans to add Google Cloud Platform's Google Kubernetes Service later in 2021.
ArcGIS Online is Esri's fastest growing mapping and data sharing ecosystem with host providers in the United States, Europe, and Asia-Pacific region. Learn more about the new features Sud highlights in this blog from @LynnaeTerpstra in the Esri Community ArcGIS Online Blog board: What's Coming in ArcGIS Online – April 2021.
What's Next for Esri Technology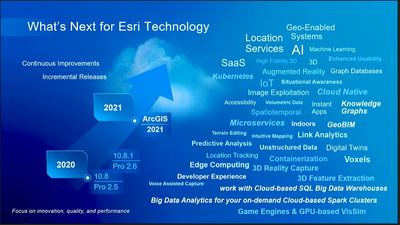 Look forward to more releases this year across the ArcGIS system with knowledge graphs, link analysis, and graph databases in the geospatial integration model; connectivity to cloud-based big data warehouses; and big data analytics for on-demand spark clusters.
Imagery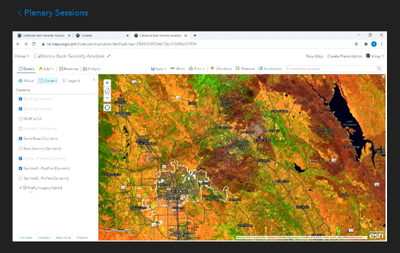 Vinay Viswambharan demonstrated the performance of hosted imagery and image analysis with ArcGIS Image for ArcGIS Online, using a California Wildfires map. To show how the extent of burn severity across 4.3 million acres of land, Vinay uploaded tiles of satellite imagery to a hosted imagery layer in ArcGIS Online. For analysis, Vinay used the Raster Function Editor to determine high burn severity from the satellite imagery and used other features to see how buildings were impacted.
Following Vinay's demo, Hong Xu demonstrated how to detect changes in raster imagery with ArcGIS Notebooks.
Spatial Analytics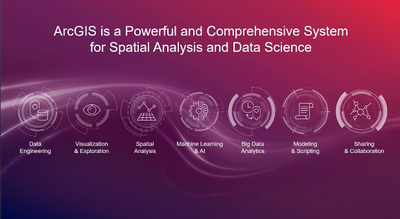 Jay Theodore explained how ArcGIS supports the full workflow of spatial analysis to empower data science.
Big Data Analytics
Bethany Scott wanted to determine what shorelines needed restoration due to high-speed ocean traffic. Bethany used a large dataset of vessel traffic containing 6 million records across 31 comma-separated value (.CSV) files to demonstrate how you can enhance your data and automate processes with ArcGIS.
Real-Time AI Analytics: ArcGIS Velocity
Suzanne Foss demonstrates how you can use ArcGIS Velocity to connect to your data stream, build your model, and leverage the enhancements of ArcGIS for JavaScript to visualize your data in real-time. Developers can manage the end-users view of the data by editing the stream volume properties and the update rate. Using the example of Hazmat Truck Monitoring, Suzanne showed how you could create a model to alert for potentially dangerous truck locations around the truck's route.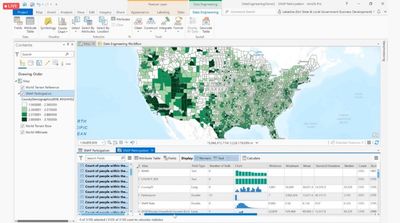 Data Engineering in ArcGIS Pro 2.8
Lauren Bennett highlights how data engineering in ArcGIS Pro 2.8 will have a new experience to construct, clean, format, and integrate data. With a map of food insecurity data in the United States, Lakeisha Coleman demonstrated how the Data Engineering feature could be used to map parts of the dataset, clean the data, create data summaries, and more.
Spatiotemporal Statistics and Spatial Machine Learning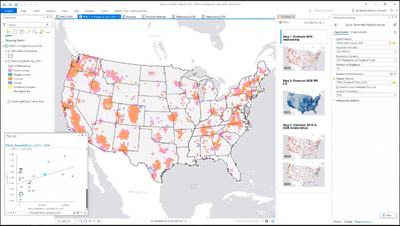 Jie Liu wanted to find the relationship between air pollution and the location of people of color in the United States. In ArcGIS Pro, Jie was able to determine the relationship between specific populations of people of color and determine whether the pattern of forecasted data is on the right track for improvement in the future.
ArcGIS and the Spatial Science Ecosystem
R-ArcGIS Bridge
Nick Giner used Jupyter Notebooks to show how you can integrate the R-ArcGIS Bridge to read data, write R code, and use spatial analytical methods.
Coming in the ArcGIS Pro 2.8 release will be the SAS-ArcGIS Bridge. Alberto Nieto demonstrated the new capabilities of working with the SAS-ArcGIS Bridge in a map about voting rights in the United States. To determine if there was a statistical significance between voter identification laws and voter turn-outs, Alberto began exploring the data using a Table To SAS feature with the SAS-ArcGIS Bridge and ultimately generated a report to understand more about the real-world complexities captured in the data.
Geospatial AI
Users and developers from around the world are featured in this segment to demonstrate how they are using geospatial artificial intelligence in the real world.
arcgis.learn in ArcGIS API for Python
Rohit Singh shows how a journey into geospatial artificial intelligence starts with arcgis.learn. arcgis.learn works with a variety of data and unstructured text and includes models for object classification, pixel classification, edge detection, road extraction, image to image translation, image captioning, and more.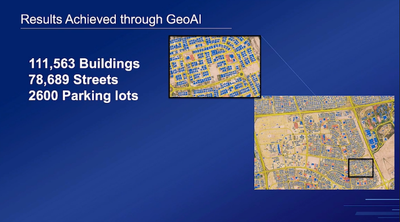 Maher Abdel Karim of The Public Authority for Civil Information (PACI) shared a real-world example for Kuwait Finder, a public information app that requires updated basemaps for the State of Kuwait. PACI explored the use of machine learning and deep learning to manage this need to identify gaps in their street network. Using ArcGIS API for Python, PACI used a model to map to achieve a 900% increase in efficiency to identify 100,000+ buildings, 70,000+ streets, and 2,000+ parking lots that would have taken 74 days of manual entry.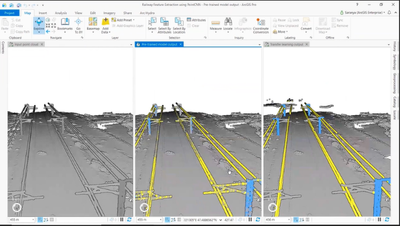 Saranya M of Esri India demonstrated how Esri India fine-tuned the Power Line Classification model in ArcGIS Pro to help a customer efficiently identify railway assets and their measurement data.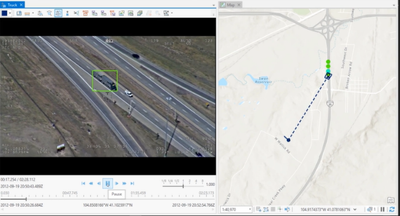 Atishay Jain explained how to use geospatial AI tools for full-motion videos. Atishay used the Object Tracking model in ArcGIS Pro 2.8 to track a truck's movement and store its related data in a database. In another example, models were used to count the number of cars that passed through the entrance of a parking lot through a motion video.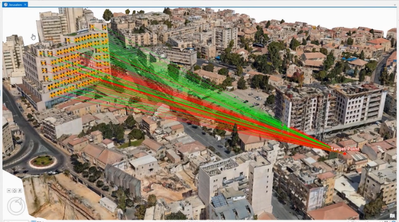 Yigal Muntner of Systematics in Tel Aviv, Israel, showed how AI models in ArcGIS Pro 2.7 was used to detect windows and doors, along with their measurements. After detecting the windows, ArcGIS Pro tools were used to evaluate the window's line of sight.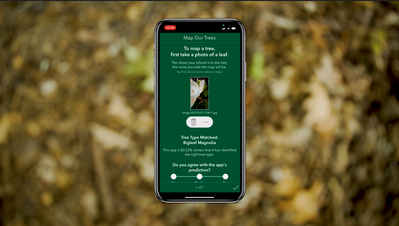 Nick O'Day of the City of Johns Creek, Georgia (USA) shared how the desire for a tree inventory led them to arcgs.learn to build a solution. Nick walked through the resources and steps that the City of Johns Creek used to build a full model system. After the foundation for the AI model was built, they used ArcGIS products to create and release an app for mobile devices so that residents can take photos of trees around the community to build out the city's inventory list.
This concludes a summary of demos and stories from Day 2 at DevSummit's Plenary session. Come back for the Day 3 Plenary Recap to learn more! Videos from Day 1 are now available on the Esri Events channel on YouTube.
More from DevSummit 2021
3 Comments
You must be a registered user to add a comment. If you've already registered, sign in. Otherwise, register and sign in.