Occasional Contributor II
Mark as New

Bookmark

Subscribe

Mute
I want to preface my question with an apology because when it comes to this type of technical stuff with GIS, I get super confused, so please bear with me.
I am attempting to add some data to our Server Database because that's what was recommended to us for safer storage. I have done this many times in the past, but it's been over a year or so because it's not my typical workflow.
I get the error "00231 layer's data source must be registered with the server", so of course I choose the option to Register the data source, and right there is where I am stuck. See screenshot below.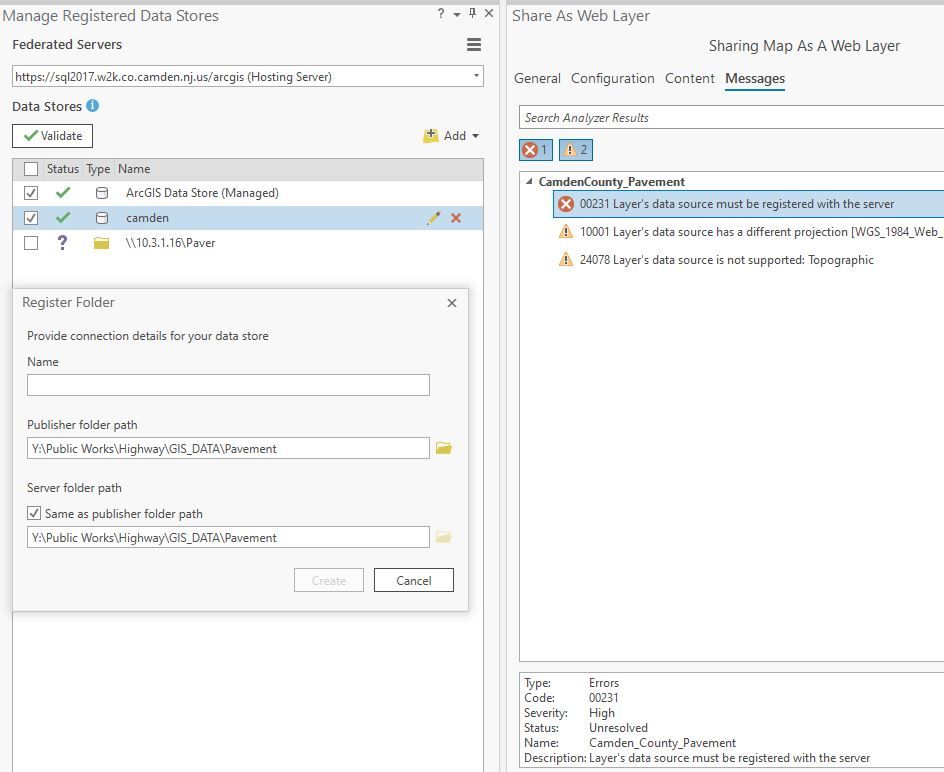 When it comes to Data Stores, I'm completely lost. I don't know what to put in this "Register Folder" prompt. Is this creating a NEW data store, or simply just connecting to an existing one?
In the window behind, it shows multiple data stores, but I truthfully don't know what the top two are. I've read many articles and it's like a foreign language to me when it comes to data management.
Can anyone help clear this up to me?
I would simply just share the data to Enterprise like I always do, but I want to try my best to start storing data in the Server database as it was recommended to me and to get a better understanding of this process.
4 Replies