Occasional Contributor II
Mark as New

Bookmark

Subscribe

Mute
Hi all,
How can I detect data entries that are not members of the domain value field.
For example, the "PARCEL" content written in the Ownership field in the attached image is not defined in the domain assignment. I want to detect all records that warn me with red like this. How can I do that.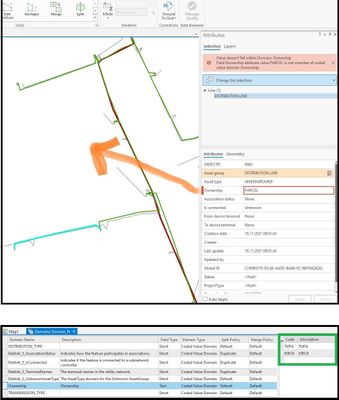 3 Replies
Esri Contributor
Mark as New

Bookmark

Subscribe

Mute

Occasional Contributor
Mark as New

Bookmark

Subscribe

Mute
I agree that Data Reviewer and Attribute Rules are the better option when it comes to long term data quality and mistake proofing workflows. However, for a quick analysis, ArcMap made it really easy to spot incorrect domain values in the Select By Attribute tool. In my example below, the "Village of Itasca and Village of Schaumburg" were added incorrectly. Visually it is super straightforward to spot them in ArcMap since they don't have the format of [Code - Description]. As far as I can see, ArcGIS Pro does not mimic this functionality with the same tool unfortunately.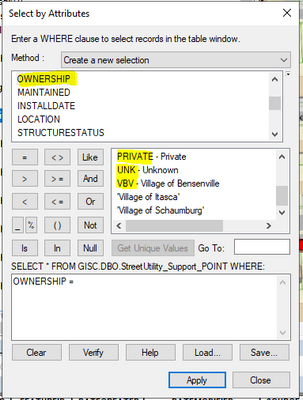 Someone asked about this functionality for ArcGIS Pro here
Esri Contributor
Mark as New

Bookmark

Subscribe

Mute
I hadn't thought about doing it that way with the Select By Attribute tool. It looks like this equivalency idea you linked is under consideration.
I also found out that you can make a selection in the map view and then use the Attributes pane > Selection tab. When you initially open the Attributes pane it will give a warning about the violation of the attribute domain.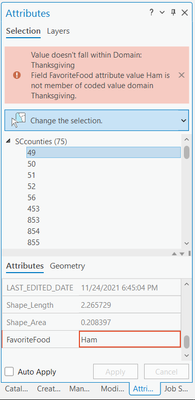 From here you can further use the context menu to change the selection to ONLY include the invalid features.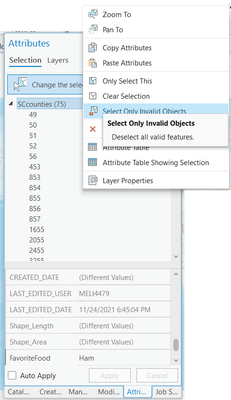 https://pro.arcgis.com/en/pro-app/latest/help/editing/edit-feature-attributes.htm#ESRI_SECTION1_8F13...