New Contributor II
Mark as New

Bookmark

Subscribe

Mute
I used 'extract multi values to points' or 'sample' to extract values from several rasters but I kept getting error 999999.
They work fine if I save the rasters under a folder rather than geodatabase.
'Extract values to points' can work even the raster is in geodatabase.
Just to confirm is that a tool bug or something?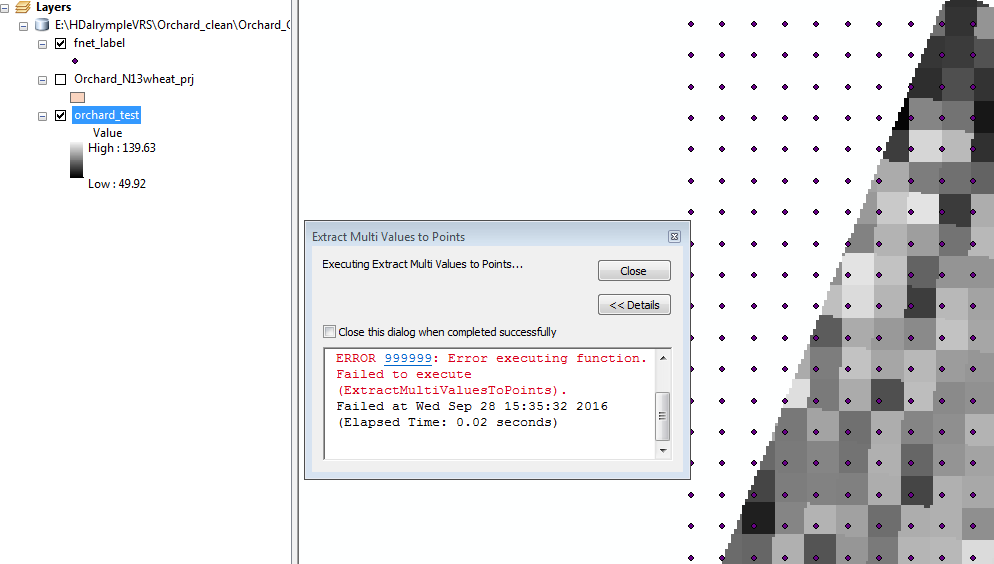 1 Solution

MVP Legendary Contributor
Mark as New

Bookmark

Subscribe

Mute
the previous screen shot with the cell size of 0.62 decimal degrees, (obviously unprojected data in a geographic coordinate system) seems reasonable and it comes as no surprise that it works. The second screen shot with the cell size of about 5 micrometers .... since it is apparently in a projected coordinate system... is wrong. Yes, glad you can confirm that. So I suspect that the Define Projection was used and the file was not actually physically projected and given the cell size and extent... a geodatabase won't let it in to be with the other files, since it by no means fits within the realm possible acceptable values. This may account for the reason that it can be saved to a folder, but isn't allowed into the geodatabase to reside with the other layers.
16 Replies