New Contributor II
Mark as New

Bookmark

Subscribe

Mute
So I just downloaded a series of e00 files from the USGS Geophysics website and I am trying to load them into my ArcMap project. I am using the 'import from e00' tool in the Arc Toolbox but I am getting a rather ambiguous message from an Import71 Utility window. It requires that I enter the name of the export file and then enter the name for the output data source. Once I do that I get a message that the file cannot be accessed and to make sure I have security privileges on the drive. I checked the folder where I would like to place the output data source and the folder attributes are set to read-only. I uncheck the box and hit ok to change the attributes but the folder status does not change. I am logged on as administrator for this machine but I cannot seem to change the status. This is a Windows 10 operating system. Any ideas on how to correct this?
Thanks.
1 Solution

MVP Esteemed Contributor
Mark as New

Bookmark

Subscribe

Mute
Chris, can you send a direct link to the location of one of the files you downloaded? I have win10 and 10.3.1 and can test now. I also have Workstation so I can make sure the file is ok, in case it is actually a corrupt file.
Just fyi, I know my Win10 machine had an auto-upgrade that was pushed thru earlier today, and I'm now having strange behavior on my browsers (both IE-Edge and the latest Firefox)
------
edit...additional info
To test and to eliminate the win10 issue, in general, I exported a shape to a new coverage....converted to an .e00, then imported the e00 to make sure it was working in ArcGIS Desktop....I had no issues.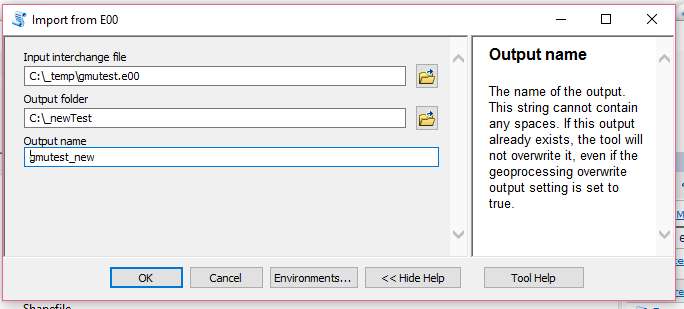 I created a NEW folder... C:\_newTest so I know there weren't any name conflicts in creating the new coverage. The conversion will create an two folders...one which is the same as the output name....and the other an "info" folder. Both will have files...and both are needed to be a coverage (ArcGIS Help 10.1 what is a coverage).
Besides creating a new folder (subsequent imports should be able to use same folder....and additional files will be writen to the same "info" folder), you will want to make sure the path doesn't have any spaces, special characters, etc (underscores are ok) and because ArcInfo Workstation goes to the "DOS" days (way before Windows), it's always best to keep the coverage name simple.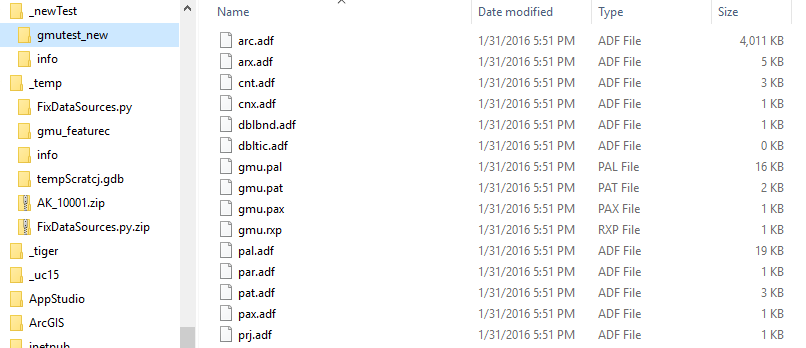 I hope this helps.
9 Replies