New Contributor
Mark as New

Bookmark

Subscribe

Mute
I have a network file (polyline) and I have a separate point file. The point file FIELDS include coordinates of the starting point and "LENGTH" which is distance along the line from the starting point.
Now, I want to create or locate points along the line which are at "LENGTH" distances from the starting points in the point file.
First, I created a route from the transportation network file.
Then, I added the starting points as events along the route.
But, I am not able to figure out how to create a new set of route events which are at specific distance from the first set of route events along the route.
I am using ArcGIS 10.2.2 Desktop
Any help is greatly appreciated. Thank you.
1 Solution

by
XanderBakker

Esri Esteemed Contributor
Mark as New

Bookmark

Subscribe

Mute
OK, so I created a few lines, added some points near the start of the line and created routes from the lines.
I created a field "DistFromStart" with some values of the distance from the start (or actually the point).
My steps were as follows:
Locate Features Along Routes (this creates the event table shown below)
I added a field "newMeasure" which is the measure of the input point from the start of the line and I added the DistFromStart to this value to create a measure from the start of the line
Then I used the Make Route Event Layer to create the event points (blue squares) which is what you are looking for (as far as I understand)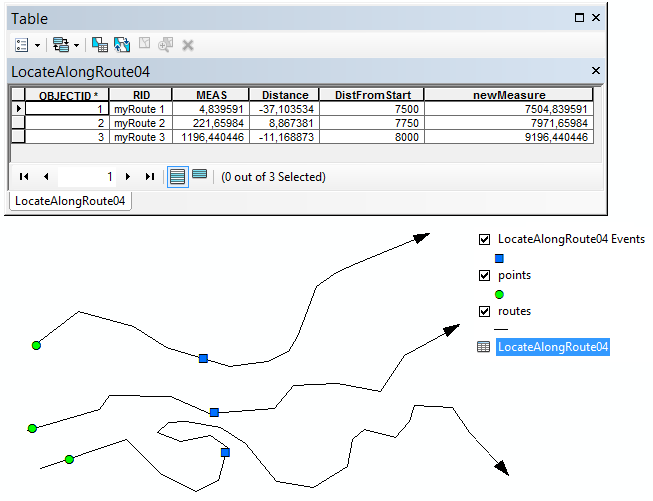 6 Replies