New Contributor II
Mark as New

Bookmark

Subscribe

Mute
When I did this, I had expected and hoped the new clipped polygon layer to have new empty polygons where there was a gap between the original parcel borders and the new outside clipping border. Instead, it ignored the clipping border and established the clip border at the original parcel outside borders.
Is there anyway to accomplish this as I had hoped and with a Standard License?
1 Solution

MVP Frequent Contributor
Mark as New

Bookmark

Subscribe

Mute
If you have not already done this, what you can do is use the overlay tools to create the "empty polygons" where there is a gap between the expected extent and the existing polygon set for cases where the existing polygons. To do this, one would essentially do an process similar to the Erase geoprocessing tool. What the Erase geoprocessing tool does is takes one polygon layer and removes all the common area found between it and a second layer. The result is all the area that is not found in the second layer, which seems to be what you are looking for.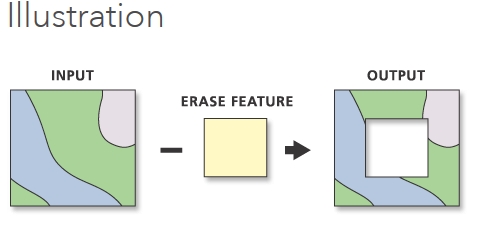 In your specific case, there is a catch, though. One needs to have an Advanced License level to be able to use the Erase geoprocessing tool, which you do not have. Thus the workaround process I posted the link for.
So how would all this work? In the process listed in the workaround, substitute your Clipping Boundary for all the places where they show "Input Features" and the existing parcels you have where they say "Erase Features", then follow all the process steps they list.
Note that your clipping boundary needs to be a polygon feature class. If it is not, depending upon what it is there are ways to convert it to a polygon feature class.
Chris Donohue, GISP
8 Replies