New Contributor III
Mark as New

Bookmark

Subscribe

Mute

Email to a Friend
I added the DNR forest practice application data to my web map, and am configuring the pop up window.
I can't get the pdf links to work.
Here is a screenshot of the forest practice application web app, so I know it can work: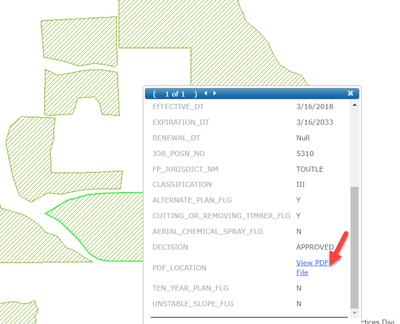 The links in the attribute table work great:

It works if I use the setting a list of field attributes. It doesn't work when I use a custom display of attributes.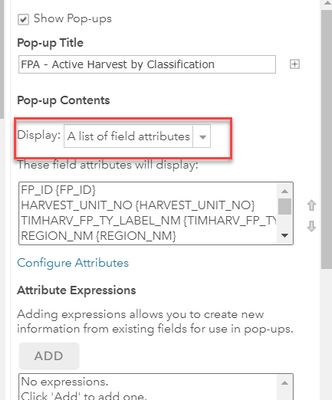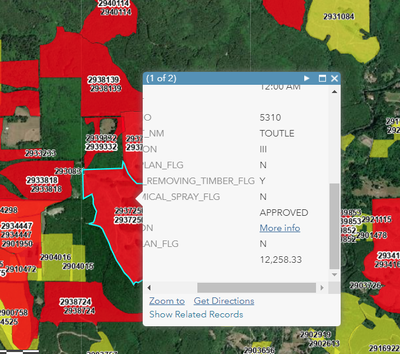 Here is one of the links:
It has the last 3 numbers of the FP_ID in the link, then at the end of the link it lists the whole FP_ID twice.
https://fortress.wa.gov/dnr/fparsimages/apps818/fp2933818/fp2933818.pdf
Here is one attribute in the table: the link is in the PDF_LOCATION field.
| | | | |
| --- | --- | --- | --- |
| SHAPE.LEN | 3870.574435 | | |
| OBJECTID | 53955 | | |
| FP_ID | 2902855 | | |
| HARVEST_UNIT_NO | 1 | | |
| TIMHARV_FP_TY_LABEL_NM | RIGHT-OF-WAY | | |
| TIMHARV_RPT_AREA | 2.3 | | |
| REGION_NM | PACIFIC CASCADE | | |
| RECEIVED_DT | 36696 | | |
| DECISION_DUE_DT | 36701 | | |
| EFFECTIVE_DT | 36701 | | |
| EXPIRATION_DT | 37431 | | |
| RENEWAL_DT | Null | | |
| JOB_POSN_NO | 1554 | | |
| FP_JURISDICT_NM | Null | | |
| CLASSIFICATION | II | | |
| ALTERNATE_PLAN_FLG | N | | |
| CUTTING_OR_REMOVING_TIMBER_FLG | Y | | |
| AERIAL_CHEMICAL_SPRAY_FLG | N | | |
| DECISION | APPROVED | | |
| PDF_LOCATION | https://fortress.wa.gov/dnr/fparsimages/apps855/fp2902855/fp2902855.pdf | | |
| SHAPE | Polygon | | |
| TEN_YEAR_PLAN_FLG | N | | |
| UNSTABLE_SLOPE_FLG | N | | |
| SHAPE.AREA | 55970.75 | | |
0 Replies