New Contributor II
Mark as New

Bookmark

Subscribe

Mute
Hi all,
This issue started since upgrading ArcGIS Pro and untools to 2.4 and wasn't present in 2.3.
Staging and deploying a Utility Network works fine but it starts after running the Enable Network Topology tool (both Gas and Electric have the same issues since then). The tool itself succeeds but every other UN tool ran hereafter fails with the error:
ERROR 001793: Network topology must be enabled.
The network topology however, is enabled and trying to run Enable Network Topology again results in:
ERROR 001803: The network topology already exists.
Even the Utility Network's properties show that it is enabled: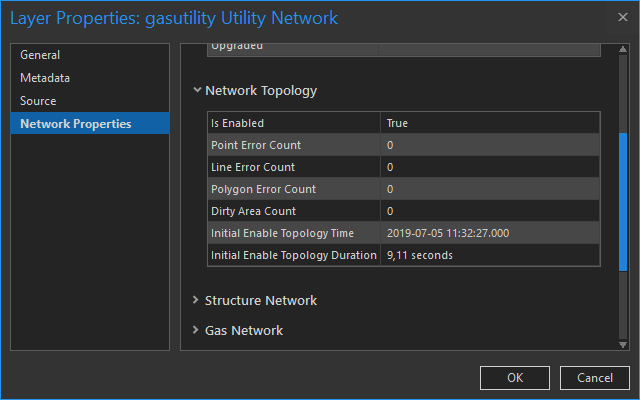 This contradicting error proves to be quite the hassle, but there is more!
The Validate Topology and Trace tools fail with ERROR 001793 when ran from the Geoprocessing tab, but they succeed when ran from the ribbon. Since the ribbon doesn't contain all tools, we're still unable to run e.g. Update Subnetwork or Create Diagram.
I already tried restaging the UN and reapplying the asset package, resharing it to Portal, disabling and reenabling the network topology, but the error keeps returning. Even on Esri's sample data...
Any ideas?
Thanks in advance and kind regards,
Killian Paenen
1 Solution

Esri Contributor
Mark as New

Bookmark

Subscribe

Mute
This behavior in ArcGIS Pro 2.4 has been reported and reproduced by Support and a new defect has been logged to look into this further.
23 Replies