New Contributor III
Mark as New

Bookmark

Subscribe

Mute
Hi All,
I'm having a lot of trouble trying to resolve connectivity, even on a simple dataset.
In this case, I am trying to connect a High Voltage conductor to a High Voltage Fuse and I keep receiving this error message (Invalid connectivity - No junction edge rule.)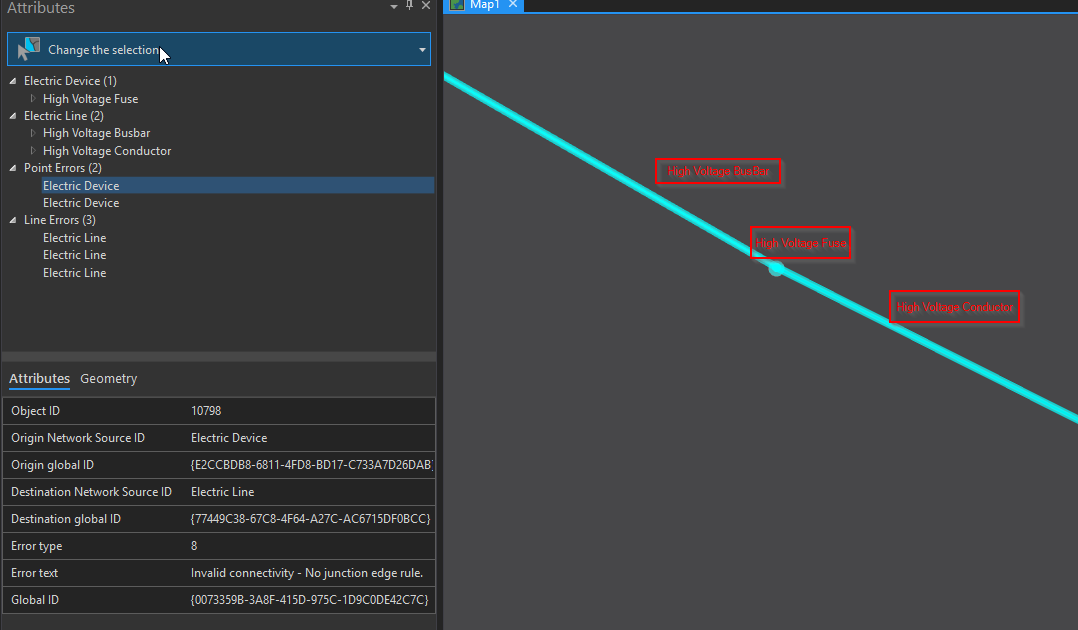 Now, the first thing I thought was that I hadn't any valid rule, so I went checking and I found the rule

But, despite the error message saying that I miss a Junction-Edge connectivity rule. I thought... Well it must be an Edge-Junction-Edge rule, being in between two lines so I went checking those rules

The rules are both presents. Does anyone have any idea why the error doesn't go away?
2 Replies

New Contributor III
Mark as New

Bookmark

Subscribe

Mute
Hi Manuele,
From the images:
The edge-junction-edge rule highlighted is:
from Busbar to Busbar via Fuse
The edge-junction rule highlighted is:
from Fuse to Conductor (and vice versa)
Your map is showing Conductor to Fuse to Busbar. Hence it seems you are missing a rule Busbar to Fuse? (not via Fuse, as that would expect another Busbar at the other end of the Fuse)

New Contributor III
Mark as New

Bookmark

Subscribe

Mute
Turns out that I had nothing incorrect on my rules. Resolving other network issues downstream of it, resolved it