New Contributor
Mark as New

Bookmark

Subscribe

Mute
When trying to install Survey123 3.6, the setup wizard freezes as soon as it launches. It does this for both the Connect and Field App downloads from the resources page. It requires the task manager to close the frozen screen. My desktop is 64 bit with Windows 10 Enterprise operating system. I've tried uninstalling the prior versions before starting the setup, as well. Has anyone else had this problem?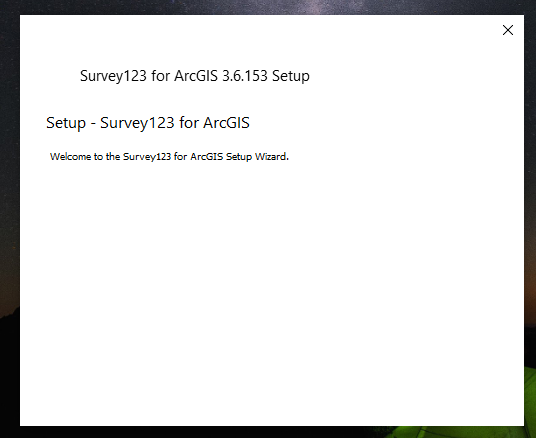 3 Solutions

Not applicable
Mark as New

Bookmark

Subscribe

Mute
Hi Leigh,
What is the exact version of Windows 10? Please check the About screen in Settings -> System.
If possible please make sure you are using the latest version of Windows and also ensure your graphics drviers are updated to the latest available for your graphics card. We have seen with many Windows systems that when the graphics drivers are out-dated there are issues with Connect and the app not displaying correctly (missing buttons and UI elements).
Phil.

Not applicable
Mark as New

Bookmark

Subscribe

Mute
Hi @DerrickStark,
Is your user home folder mapped to a network drive or other location where desktop shortcuts are not actually stored locally but on remote server, or you do not have permission to create desktp shortcuts? It sounds like your issue could be related to the following issue we have fixed in the 3.13 release:
ENH-000140833 - Silent Installation fails if an error occurs when making the desktop shortcut links.
From your screenshot it looks like the installer is failing when it tries to create the desktop shortcut. This issue has been fixed in 3.13, you can test out the current RC builds available on the Early Adopter Community, and 3.13 will be released later this week.
Regards,
Phil.
New Contributor II
Mark as New

Bookmark

Subscribe

Mute
Hi @Anonymous User ,
I tried the default path as well as changing the path which neither worked. I did not copy it down; however, I did get it to work by downloading it from the Microsoft Store which was a lot easier and I was able to open it also.
Thank you for your help.
Derrick
14 Replies