Occasional Contributor II
Mark as New

Bookmark

Subscribe

Mute
Hi, I'm wanting to have a text field in Survey123, but would like to restrict the type of value entered.
I'd like the field to be restricted to prevent entering of specific words, such as:
I saw that you could use regex in the constraint field, such as
not(regex(.,"KNOW"))
which prevents entry of both UNKNOWN and DON'T KNOW but I haven't been able to figure out how to constrain by multiple values. I've tried using OR within the regex as well as having two regex formulas [ e.g. not(regex(.,"KNOW")) OR not(regex(.,"NONE")) ] but they didn't work.
How could I prevent form submission containing multiple specific words?
I won't be able to constrain just by "NO" because this will likely be used in other wording.
1 Solution

Not applicable
Mark as New

Bookmark

Subscribe

Mute
Hi @JulietK,
Yes, the link to that blog is a good starting point for creating your pulldata() expression. You can also refer to the online documentation here.
The constraint expression needs to go on the original text question they are typing the answer into, not on the pulldata() question that is hidden. The pulldata question will just have the value in it returned from CSV. It can be hidden and null field type if you do not want to store the value in feature layer in a field. Also note that pulldata is case sensitive, so you need every combination added depending on the text they are typing. It msut be an exact match.
To make it easier to explain I just created a quick example, here are some screenshots: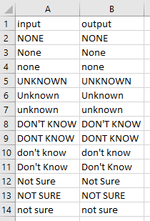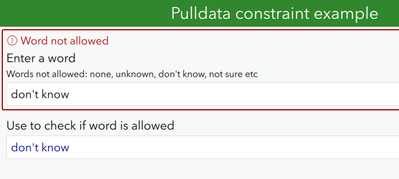 I have not made the pulldata expression text field hidden, just for demo purposes, but in your final survey design, you can use hidden appearance or hidden question type, and set the esri field type to null if preferred.
Attached are the example files if you want to test it out.
There are likely other ways you can can achieve what you are wanting to do, either using regex expressions, nested if statements, pulldata or a combination of all three. It really depends how perfect you want the solution to be.
This approach could be used as a spell check, prvovided you have a well known list of all the words you want to allow. But in that case, if you do have a list of known words, I would suggest using a choice list via a select one question type, and using the autocomplete appearance, that way the user can select the words from a dropdown or type it in to select the well known values from the list and they must match to be valid. Choice lists are the best way to manage and control the extact text that is allowed to be entered.
Hope this helps.
Phil.
7 Replies