MVP Regular Contributor
Mark as New

Bookmark

Subscribe

Mute
So, I've hit a huge roadblock that I wasn't expecting with Survey123...
I created a complex survey to function as a replacement to expensive proprietary software so our company could use Esri products we already pay for instead of purchasing additional software. I got everything working in the Survey and Feature Report template, and thought things were almost ready for "launch".
However, one requirement is that the user who submitted the survey (usually a Creator or Field Worker role with edit capabilities) needs to be able to view submitted records and possibly make edits to submitted data once they get back from the field (this is a functionality of the other software that we need to replicate). I told them "Oh yeah, no problem. You can edit records in the Data Tab of the survey123 website." I had done it many times before, so I didn't foresee any issues.
However, today when the user attempted the workflow he mentioned he couldn't edit records. I looked into it further and noticed this message: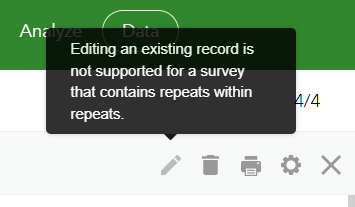 Then I found this documentation from Esri, that does specify that editing functionalities are not supported for records with nested repeats.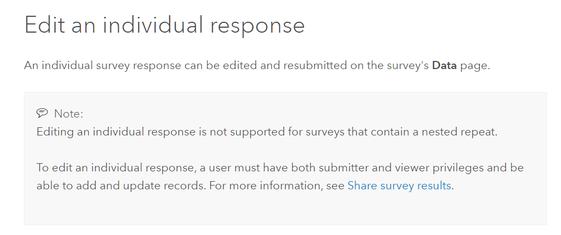 Then I thought, "Ok, but maybe they can still edit in the data tab." I was able to make changes when clicking on a specific value in the table, and a colleague of mine tested it and it worked for her as well. However, it still did not work for the user who originally submitted the record (I assume this is because they are not an administrator type, and we want to keep it that way).
So....one question is just WHY is a nested repeat a limitation for this? Is there any plan for supporting this functionality in the future? Is there any type of workaround I could do for this so that the user can edit existing records in a browser interface?
Thanks for listening...
-K
Best,
Katherine
5 Replies