New Contributor II
Mark as New

Bookmark

Subscribe

Mute
I want to confirm whether the settings one enters to share a Survey123 app (i.e., via Collaborate tab) are sufficient for fieldworkers to add new features to a layer via Survey123, or whether the hosted feature layer to which they are adding features itself requires that its settings be configured in a certain way?
The reason I'm asking this question: the edit settings for a hosted feature layer are here, and I initially opened those settings up for all members of our group to fully edit. What we have discovered, however, is that certain of their operations (in ArcGIS Online, and possibly in ancillary apps such as StoryMaps) have created new features on those layers. We thus want to restrict editing in those feature layer settings to prevent this from happening again. But we don't want to restrict editing to the point where field workers cannot add features via Survey123!
Thanks for your advice.
Regards,
Jim Proctor
1 Reply

by
JamesTedrick

Esri Esteemed Contributor
Mark as New

Bookmark

Subscribe

Mute
Hi Jim,
The sharing of surveys on the Collaborate tab is designed to properly configure surveys for a given task; however, it sounds like you might be setting up a situation when you share to other apps that might be causing the issue you are describing. To address issues like spurious data submission, Survey123 has implemented a slightly more complex than normal sharing model that you might not be taking advantage of.
Note that there are 2 sharing options on the Collaborate tab: Submit and Analyze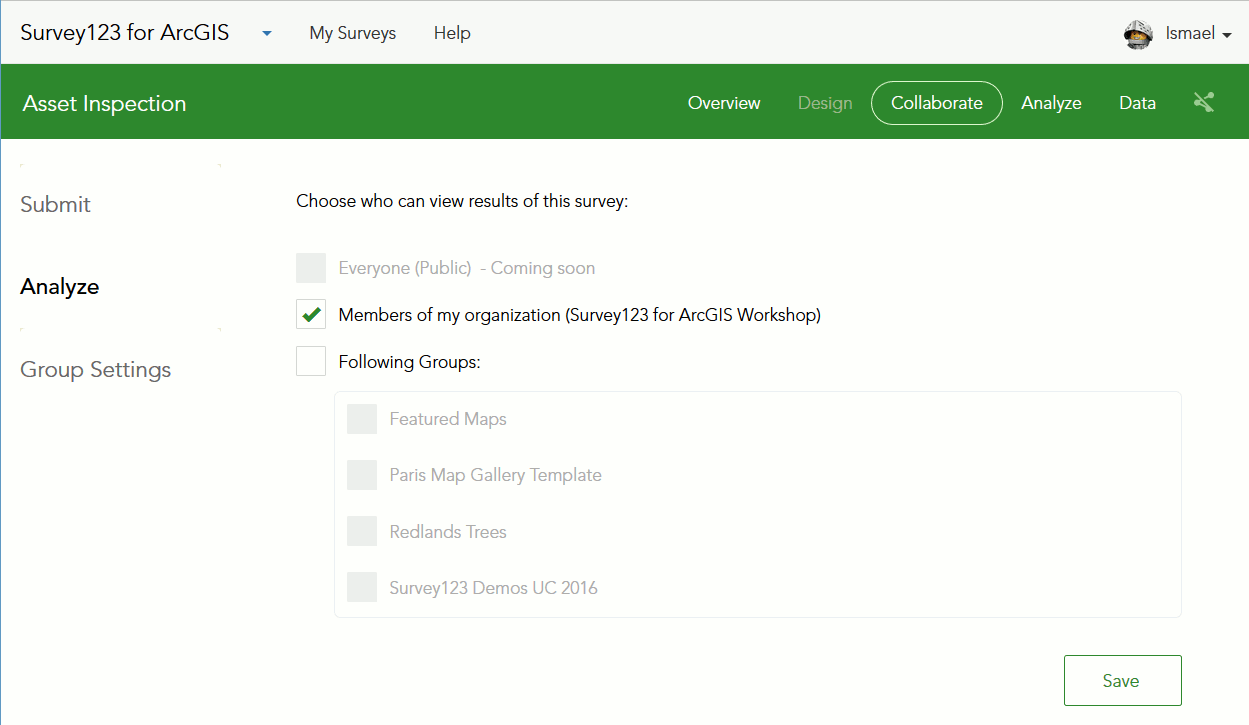 The Submit option is to share the survey to people collecting the survey results. If a survey is created via the Survey123 website, this will share a Feature Layer View whose settings are restricted to submit data only, noted by being named '[Form Name]_fieldworker. If created via Survey123 Connect, this will share the Feature Layer of the survey; you can restrict access through the Feature Layer Settings.
The Analyze option is to share the survey so that the results can be viewed. This creates a read-only Feature Layer View, names '[Form Name]_stakeholder'. This Feature Layer View is what should be used in other view-only applications like Story Maps.