New Contributor III
Mark as New

Bookmark

Subscribe

Mute
I understand that version 3.10 allows for the attachment of various file types to survey form. There appears to be a default list of file extensions that are allowed for this question, but the user can also choose "All files" to include other file types. Is it possible to modify this default list of allowed file extensions, or maybe make "All Files" the default option?

3 Solutions

Not applicable
Mark as New

Bookmark

Subscribe

Mute
Hi Austin,
Sorry, I just realised you are using file question type in the web app and not the field app based on your screenshot above. The response I gave above was relevant for the field app, not for the web app.
Did you use the web designer or Survey123 Connect to publish the survey?
If you create the survey via web designer with a "file upload" question type, you get the option of 3 allowed file types, this can be Document, Archive or Custom. If you use custom you can leave it blank, and all supported file types can be selected. Or you can specify just the few you want the user to select.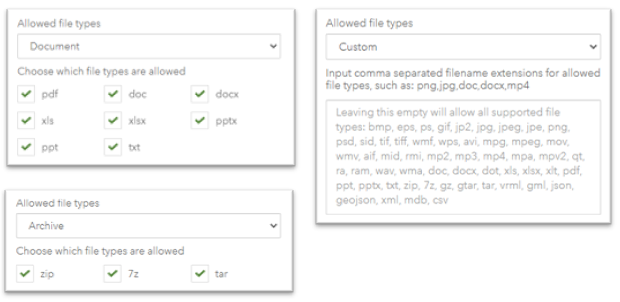 When using Custom left empty when I open in the web app, I can see all supported types under the file chooser with the Customized files selection:

I just did some further testing and found that when use Survey123 Connect to publish the survey with a file question, open in the web app, it will default to "Customized Files" with a list that is not fully complete the same as if I published from web designer:

This appears to be a bug which I will follow up with our website team, in the meantime the best workaround is to just select "All Files" so that you can select the required file type.
Regards,
Phil.

Not applicable
Mark as New

Bookmark

Subscribe

Mute
Hi @Paul_Millhouser and @BrittanyBurson,
In the upcoming 3.13 release, this will now be supported, for both Connect/field app and the Website/web app. For a file/image question type in XLSForm, using the body::accept column, by specifying the externsion such as .doc,.docx,.xls,.xlsx (seperated by comma) it will restrict allowed file types for the question.
You can test this out with latest 3.13 beta builds and beta web app available on the Early Adopter Community.
Regards,
Phil.

Occasional Contributor
Mark as New

Bookmark

Subscribe

Mute
With some trial-and-error, what worked for me is removing my constraint limiting the number of photos/file that the user can do on the survey.
After the removing the constraint, was able to select and upload multiple files.
14 Replies