Occasional Contributor II
Mark as New

Bookmark

Subscribe

Mute
Hi,
My client who holds a field worker account needs to manage their survey dataset directly including a deleting functionalities. I've set up the setting like below 'Add, update, and delete records (read access enabled).

The field worker account could click 'delete' from the Data page of the Survey123 website, and seemed working, but the the record comes back after deleting. So it looks like the button is activated but it actually does not delete it.
I am not sure if I miss any additional settings or it's a bug? or field workers are not supposed to delete any records?
Thank you.
Kerry
2 Replies

Esri Regular Contributor
Mark as New

Bookmark

Subscribe

Mute
Hello @KerryKang,
If you refresh the page does the record still display? Was you survey published from Survey123 Connect or the web designer? What is the response of the deleteFeatures request when the user deletes the feature?
Thank you,
Zach

Occasional Contributor II
Mark as New

Bookmark

Subscribe

Mute
After I click the delete button, the highlight (selection) colour on the record is moved to the next line, but the record I tried to delete is still there. Also I still see all test data after refreshing the page.
The survey was built back on 2020 - using the connect 3.10.
If I access through the rest service and send delete request, it worked successfully and I can see that the record I tried to delete is not in the survey data site anymore.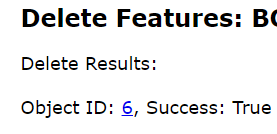 Is it the error perhaps coming from using an old version of survey?
Thank you.
Kerry