Occasional Contributor
Mark as New

Bookmark

Subscribe

Mute
We are looking to begin using Survey123 as a work order driver alongside Work Force. One of the things we would like to do is fill out part of the survey (Address, date issued, details) and be able to send a link out to a mobile device via Work Force to edit once the work order has completed.
At the moment, I cannot find anything on this. I see that I can share a link to fill out a new survey for the field worker, but it would be good if details on the survey could be fill out beforehand by an administrator on a desktop and then sent via link.
Thanks for your help!
2 Replies

Occasional Contributor
Mark as New

Bookmark

Subscribe

Mute
Agreed that this would be good functionality. Current, I believe, you can do this with the web app, but not with the mobile app.

Occasional Contributor III
Mark as New

Bookmark

Subscribe

Mute
Assuming everyone had licenses, I believe you can do this with the Inbox feature. This should also be platform agnostic so long as you use the Field App (e.g., it will work on mobile app).
Using the Inbox, you can set Query expressions. If you have a field in the survey that correlates to username, you can have the person in the office designate a user and then that user can refresh their inbox with the surveys.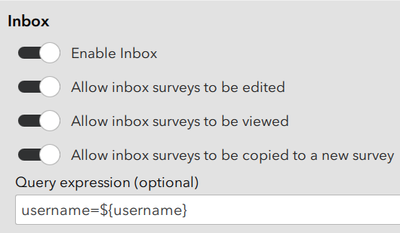 This will hopefully work better once Field Maps takes over for Workforce. Then you could use Field Maps to assign jobs to people and let them know they have pending requests.