Regular Contributor
Mark as New

Bookmark

Subscribe

Mute
Hi there
Last year I created a report template which I uploaded to https://survey123.arcgis.com/surveys and everything was working perfectly. I could share the reports to others. Thereafter, I recall also creating a hosted layer view of the feature service in AGOL. Dont think I made any other changes.
Unfortunately this year I am unable to generate any reports. I get the error message "Error occurred when querying data from the feature layer. Cannot perform query. Invalid query parameters." after clicking on the "generate" report button, or viewing the sample report.
At first I thought this may be related to any permissions being changed on the layer in AGOL, but I don't think so.
I even tried downloading a sample report from Survey123 (under Mange Templates) for my dataset but that also does not work.
Any suggestions as to where my problem may lie?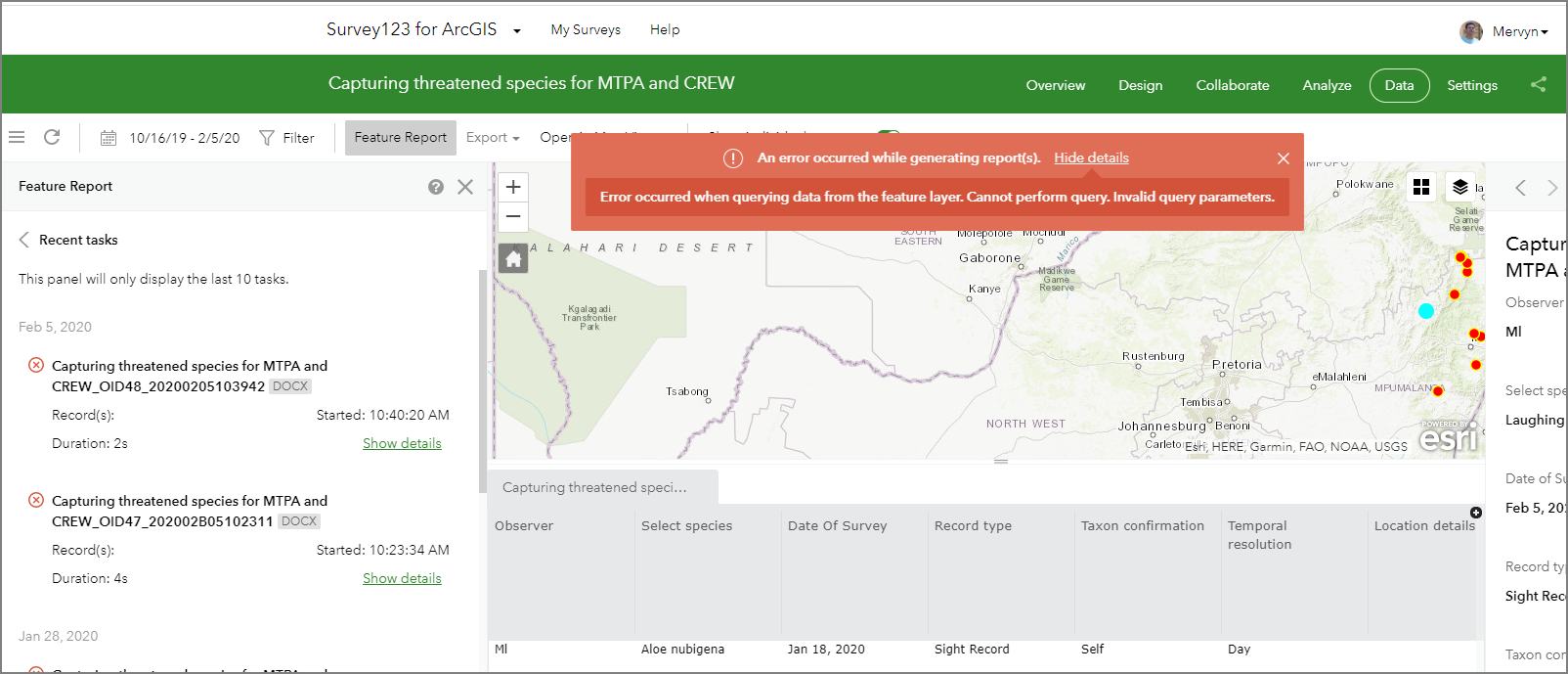 1 Solution

by
ZhifangWang

Esri Regular Contributor
Mark as New

Bookmark

Subscribe

Mute
Hi Mervyn,
Thank you for the information.
According to your description, I can confirm this is the bug I mentioned in 3.8 release. We already planned a hotfix to address this in a few days, will let you know once it's released. In the meantime, you can use the workaround (manually sort any field in the table first) to generate a report as needed, the result will be the same after the hotfix.
For the Overview page, since the underlying feature service does not have an edit date field from editor tracking, what you see is a by-design behavior for now because that we cannot extract related info if there is no creator, creation date, edit date fields. If you have any use case or question (for example, regardless of editor tracking fields, you do have equivalent fields by your own design), please don't hesitate to let us know.
Thanks,
Zhifang
7 Replies