Occasional Contributor
Mark as New

Bookmark

Subscribe

Mute
Currently what is the best method to create feature report from Survey123 in MS Flow/Power Automate?
I have this process running successfully in Integromat, but am looking at transitioning this over to MS Flow (Power Automate)
There is no "Create Feature Report" module in MS Flow like there is in Integromat. I did notice in another post there is a (Premium) service in Flow called "Populate a Microsoft Word Template". Is that the only way now to handle this process in Flow?
Is there another "Create Feature Report" module planned for releasing in MS Flow? Since the "Populate a Microsoft Word Template" is a Premium service, I cannot access that to try.
1 Solution

Occasional Contributor
Mark as New

Bookmark

Subscribe

Mute
Thanks to James Tedrick at ESRI - the solution to the issue we were having generating reports using the Create Feature Report API in Microsoft Power Power Automate has been resolved. The issue was a bit difficult to diagnose, since everything worked as expected except when a geopoint question was included in the report template, then it could not render the map on the report and the process would timeout.
The solution is to make sure the generateToken API request in the flow includes the value referer=https://survey123.arcgis.com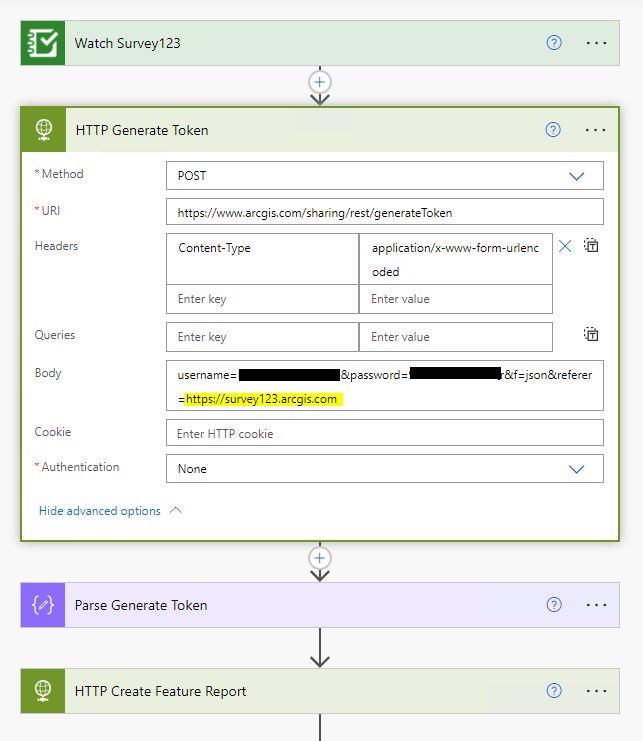 17 Replies