Occasional Contributor III
Mark as New

Bookmark

Subscribe

Mute
Looking for answer to question and guidance - have an existing feature service hosted on my own server that has multiple related tables and attachments for each based on various workflows and reports that need done in the field.
Attachments enabled on main feature service itself - and I want to add fields into the Attachments table for collecting data in a Survey123 form - I want a user to be able to upload a photo / PDF and also enter their name and company along with the data an attachment was added. I have added these fields into the Attachments table, and Global IDs are being used.
Photo of what the XLSForm looks like:

Note: I have already created multiple surveys off of this service for the related tables based on this blog post
When I attempt to do this with the attachments table on the main feature service, it tells me it cannot find the attachments table.
Is this possible or do I need to create another related table populated with the fields I want to collect and enable attachments on that related table instead?
Picture of error I receive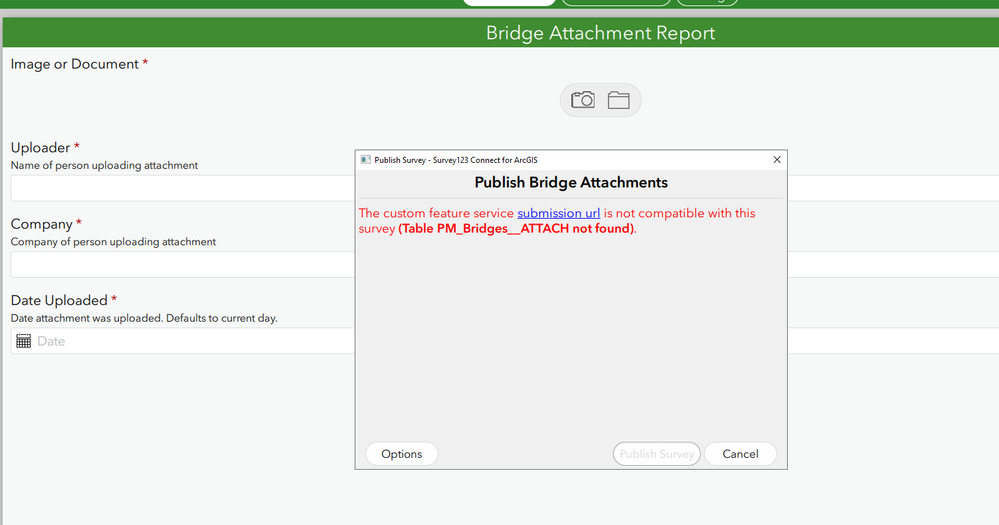 1 Solution

Occasional Contributor III
Mark as New

Bookmark

Subscribe

Mute
Update: Here is how I did it. Couldn't add the additional metadata fields I needed in the attachments table so I created ANOTHER related table just for attachment information, and enabled attachments on that table!
Once I did that, it was showing up in Survey123 connect for me. Screenshot of XLSForm.

Ended up doing this for 3 tables and attaching them all to views & buttons in an experience for our requestor.
4 Replies