New Contributor II
Mark as New

Bookmark

Subscribe

Mute
We are currently using the new Storymap application to give presentations for City Council Meeting. The Story's look great on the computer screen but I have some members who have trouble when it is moved to the larger presentation screen. They have some difficulty with seeing the words and because of distance from the screen need me to enlarge the font size to accommodate their vision challenges. Are you planning any changes to editability of text and fonts. The new Storymap has great limitations in making needed changes? If there are no plans for the change I will start looking for a program that better meets our needs.
Thank you for any feedback or advice in advance.
Chelle
3 Replies

MVP Esteemed Contributor
Mark as New

Bookmark

Subscribe

Mute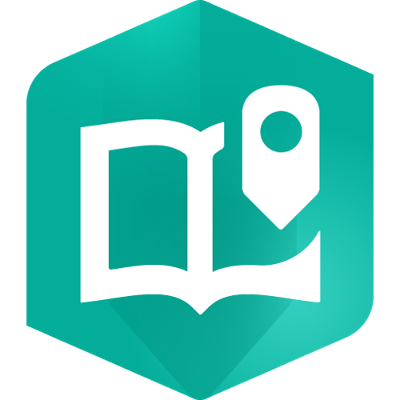 by
OwenGeo

Esri Notable Contributor
Mark as New

Bookmark

Subscribe

Mute
Hi @MichelleMount -- All web browsers have the ability to increase the text size. It's usually in the browser View menu and there are simple keyboard shortcuts as well.
If you are using a story as a presentation tool, simply use the browser zoom to increase the text size to something that's easier for the audience to read. Using the browser zoom is much easier and more flexible than having to manually set the size of the text in your story across different sections, and you don't have to sacrifice the appearance of the story for others who might be reading your story directly.
Here are two screenshots of the same story at the standard browser zoom level and then a few levels up...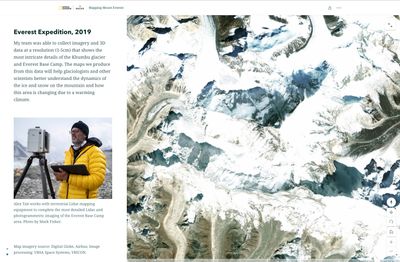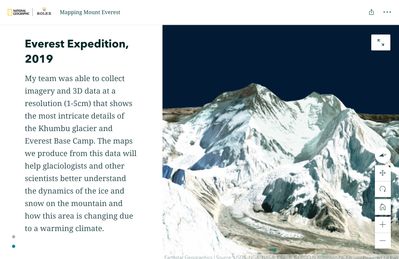 If you do want to make some text blocks larger than the others around it, you can highlight a portion of the text and choose to convert it to a Large Paragraph (as opposed to the standard Paragraph block type).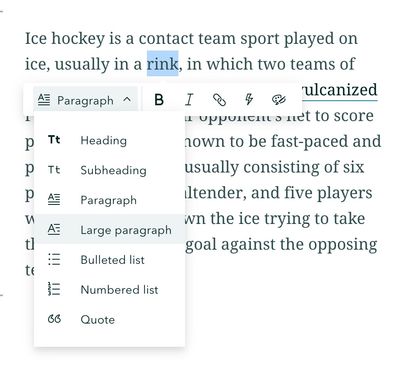 Owen Evans
Lead Product Engineer | StoryMaps

New Contributor II
Mark as New

Bookmark

Subscribe

Mute
Owen,
Thank you for responding so quickly. We have tried increasing the size in the web browser on other apps and it was not successful for the person who was having issues. I think the issue is related to the overhead projector, and the vision condition of the person giving the presentation. I haven't given in a try with Storymaps but we will see how it works. I hope it works.
Chelle Mount