New Contributor II
Mark as New

Bookmark

Subscribe

Mute
Our team is trying to use Arcade to do some data updates without success and I have reduced the update to be the simplest possible. Basically, this is to copy the data to 'notes' when this field changed. I am on pro 2.7 and I am using file geodatabase. Could anyone see what is wrong with this arcade expression or do I need to configure something for update via arcade? Thanks in advance for any helps! Following are the screenshots of the error we received and the arcade expression.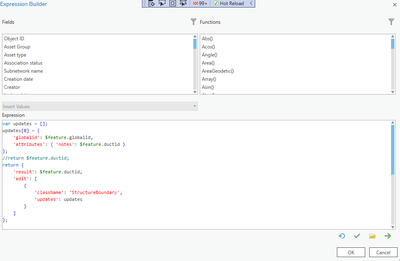 1 Solution

Occasional Contributor III
Mark as New

Bookmark

Subscribe

Mute
yes, as soon as I change the name in the name field, it is updated in the notes field as well.
If you want to pass a value from another feature's attribute table that can be accomplished but you need to know which feature is passing the attribute and which feature is receiving the attribute. My use case for the following code is to buffer each feature in my centreline feature class by 10m, when a watermain feature falls within 10m of a centreline, my expression grabs the coordinated_ID value from the centreline feature and passes it to the coordinated_ID field in the watermain attribute table. When multiple centreline features intersect with the watermain feature, it grabs the coordinated_ID from the longest centreline. when features don't intersect, the coordinated_ID field is populated with null.
//On Insert or Update populate Coordinate ID 
var fsRoads = FeatureSetByName($datastore, "Centreline_Assets",["Coordinated_ID"], True);
var watermain = $feature;
var watermainbuf = Buffer(watermain, 10, 'meter');
var roads = Intersects(fsRoads, watermainbuf);
var cnt = Count(roads);

// check different situations
if (cnt == 0) {
    // there are no roads found
    return null;
} else if (cnt == 1) {
    // there is a one road, return the Coordinate_ID
    return First(roads)["Coordinated_ID"];
} else {
    // there are multiple roads found, find the longest segment
    var maxsegmentlength = 0;
    var CoordID = null;
    for (var road in roads) {
        var segment = Intersection(road, watermainbuf);
        var segmentlength = Length(segment, 'meter');
        if (segmentlength > maxsegmentlength) {
            CoordID = road["Coordinated_ID"];
            maxsegmentlength = segmentlength;
        }
    }
    return CoordID;
}
12 Replies