New Contributor II
Mark as New

Bookmark

Subscribe

Mute
Hello,
Last week we noticed we are unable to "share as web layer" or "overwrite" hosted feature layers that we own. Meaning, I pulled in a dataset from ArcGIS Online (AGOL) that I created (I own), updated the symbology, and wanted to overwrite it so that the symbology changes appear in AGOL. The "overwrite web layer" function is grayed out. I read you need to make sure:
you are signed into your portal (I am)
make sure it is a hosted feature layer (it is)
you have privileges to update the layer (I'm an Administrator and classified as GIS Professional Advanced)
The really strange part is, we used to be able to overwrite hosted web layers with ease (this is part of our workflow) and all of a sudden we are not able to overwrite any of the data we have hosted in AGOL. We are currently working on Pro 2.8.
Has anyone else came across this issue recently and knows how to fix it? We are at a loss on finding a solution right now as it seems we have everything set up properly.
Below is an image of what I am seeing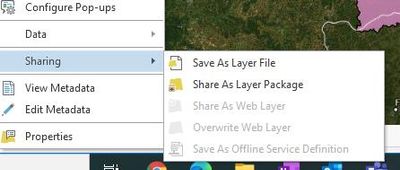 Thank you for any information you can give me.
Katie
1 Solution

New Contributor II
Mark as New

Bookmark

Subscribe

Mute
Hi Katie,
I too had a similar experience using both an institutional license and a commercial license. At first I thought it was a bug, and then I realized it was a workflow issue.

You cannot pull a layer into a local Pro session and then overwrite the layer. You can make changes to the data by adding/removing features, but you cannot make changes to the symbology or database.

You can only do that by making a local copy. But be extremely careful because if your copy does not have matching field names/types then you will corrupt, replace, and/or lose data and functionality in any web maps/apps supported by that layer.

For myself I was able to work around it by just going to the Item page for the feature layer and then clicking on the Visualization tab.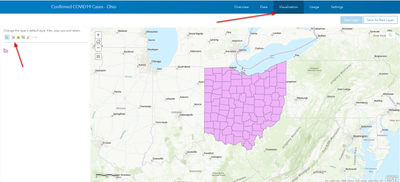 Similarly you can do this for the database by clicking on the Data tab from the Item page.
This will help you avoid accidentally overwriting, but its not as user friendly perhaps as it would be in the ArcGIS Pro environment.

Of course this is not ideal, and may seem like a bug but when you think about it it does not make much sense for you to be able to click on an object and replace that object with itself. Rather you need an object to replace the one you intend to overwrite.

I hope that makes sense.
6 Replies