New Contributor
Mark as New

Bookmark

Subscribe

Mute
Hello everyone. I'm working on a project where I am checking several fields for certain types of information. I have a lot of information to go over and I wanted a simple way to verify if I'd checked it or not, or if I needed to look at it at all.

Unfortunately I can't get the symbology to work quite the way I'd like in a simple fashion.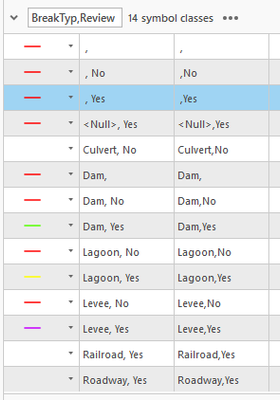 This is what I have. Under normal circumstances I have six fields- Dam, Lagoon, Levee, Railroad, Roadway, and Culvert. Adding the Yes/No equation doubles the number of symbols. One of my other features has a third field I wanted to cross reference against, and adding that hikes it from 14 to 35.

What I'd like to do is have my fields arranged as such;
Culvert
Dam
Lagoon
Levee
Railroad
Roadway
Yes
No

The features would then have an associated color, and yes/no would just modify the symbol- say give it a dash effect, or give it a thicker border.

Is this possible in any way? Thank you in advance!
1 Solution

Occasional Contributor III
Mark as New

Bookmark

Subscribe

Mute
You could try something like this using Arcade in your symbology
Iif($feature.Review == 'Yes','Yes',$feature.BreakType)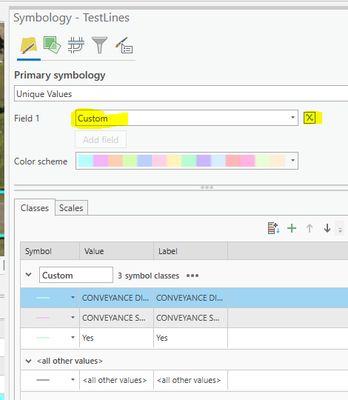 There are two other ways. One you have tried and will lead to 14 options each needing to by symbolize. The other option is to add the same layer to your map twice. Once symbolized on "BreakType" and once on "Review". Make the "Review" symbology very wide and draw it under your existing lines.
But Arcade seems the simplest and closest to what you want to do.
8 Replies