New Contributor II
Mark as New

Bookmark

Subscribe

Mute
Hello, I am working in ArcGIS Pro 2.9 and am trying to open the MaxEnt Presence-Only Prediction geoprocessing tool (spatial statistics) and immediately get this error when I click on it:
"Error HRESULT E_FAIL has been returned from a call to a COM component".
Nobody knows why I am getting this error at the agency I work for. I do not have any data loaded to my map yet, but when I do - I use data on my local drive.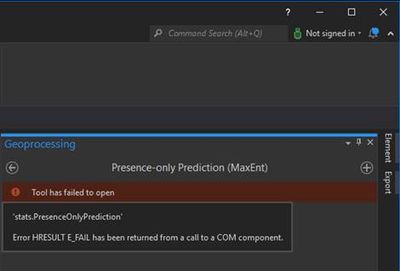 Any help would be greatly appreciated!
1 Solution

New Contributor II
Mark as New

Bookmark

Subscribe

Mute
For anyone looking for answers on this, I was finally able to solve this problem with the help of a coworker and Esri technical staff. I hope it helps someone else!
First, we did a clean uninstall of ArcGIS Pro
Attempt to uninstall ArcGIS Pro from the Control Panel. (done in workflow step above)
Ensure that all ArcGIS Pro processes are not running in the Task Manager. These are usually the following:
ArcGISCleanup.exe
ArcGISPro.exe
Rename or Delete the following files if they still exist:
C:\Users\username\AppData\Local\ESRI - ArcGISPro and any other Pro folders
C:\Users\username\AppData\Roaming\ESRI - ArcGISPro
C:\Program Files\ArcGIS - Pro
C:\ProgramData\Microsoft\Windows\StartMenu\Programs\ArcGIS - ArcGIS Pro
Rename/Delete the following registry keys if they exist:
HKEY_CURRENT_USER\Software\ESRI\ArcGIS Online For Pro
Check to make sure that the license isn't checked out to work offline. Expand on the "HKEY_CURRENT_USER\Software\ESRI" folder in the folder tree.
Then, we did the downloaded and installed ArcGIS Pro 2.9, patch 2.9.1 and Data interoperability for Pro
In any web browser, go to My Esri.
Log in with an Esri account. If already logged in, proceed to step 3.
From the My Esri Dashboard, click the My Organizations tab
Under My Organizations, click Downloads. Note: The Downloads sub-tab is available if the Esri account is connected to an organization. If the account is not connected to an organization, click Request permission to your organization from the My Organizations tab to notify the organization administrator. Refer to How to Connect Your Customer Number to Your Organization for more information on connecting to an organization.
A list of available products displays. Select the All Versions, select the version and search for the desired product, and click View Downloads
Under the Download Components tab, in the Action column, click the Download button for the desired product.
8 Replies