New Contributor III
Mark as New

Bookmark

Subscribe

Mute

Email to a Friend
In Pro 2.3 (and 2.3.1) using the Copy Features geoprocessing tool and after electing to place the output in a File Geodatabase it's insisting on adding '.shp' to the end of the file. I then tried removing the .shp from the output file name but it automatically adds it once Run is clicked.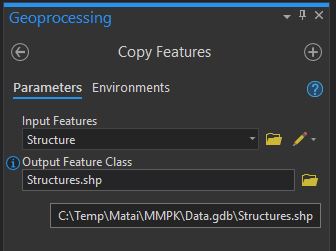 From the Python window it also fails, as despite not including '.shp' on the output parameter it's tried to add it, when looking at the result:
arcpy.management.CopyFeatures("Structure", r"C:\Temp\Matai\MMPK\Data.gdb\Structures", None, None, None, None)
<Result 'C:\\Temp\\Matai\\MMPK\\Data.gdb\\Structures.shp'>
Using the tool to create shapefiles (outside of a file geodatabase) works fine.
1 Solution

New Contributor III
Mark as New

Bookmark

Subscribe

Mute

Email to a Friend
Solution and one final quirk:
After many upgrades and downgrades of Pro I was on Pro 2.3.1 with Data Interop 2.2 installed, as I hadn't yet upgraded to 2.3 of Data Interop. Once I removed Data Interop most of the oddities went away and Pro was again recognizing file geodatabases properly.
There's still one case where it isn't recognizing a file geodatabase which is if I drag a file geodatabase from the Catalog Pane to say the Output Feature Class input box. It automatically changes the output to be a .shp. The default FC in the default Project FGDB is fine, if I manually copy/enter the path to write a new FC in a known FGDB it works fine and if I browse to a FGDB and enter a FC name it's also fine.
Default: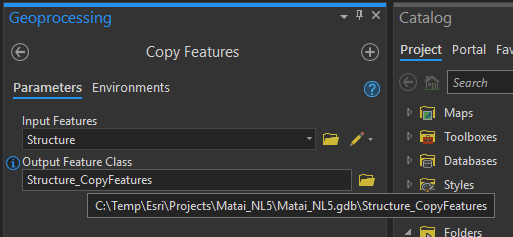 FGDB dragged from Catalog Pane: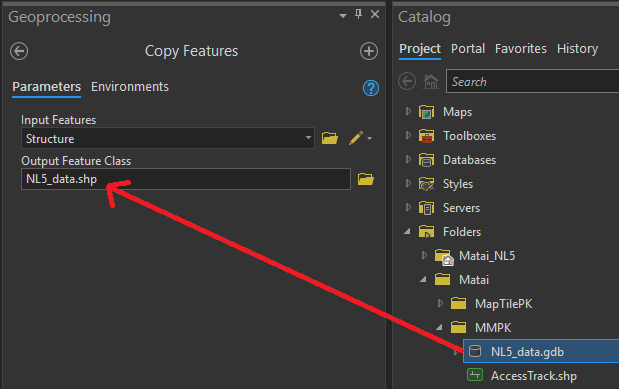 8 Replies