New Contributor II
Mark as New

Bookmark

Subscribe

Mute

Email to a Friend
Using ArcGIS Pro - Mosaic to New Raster. I have a mosaic with 650 images (~50 Gb) that I am trying to convert to a TIF or JP2 (~32 Gb). The process will usually complete with no errors, however the image will be incomplete and stops compiling in the middle of images, causing striping areas. See Image. I have tried smaller subsets of the mosaic with the same effect. I also tried outputting a smaller subset to GRID output, and that sometimes has worked - probably when I changed Mosaic Operator from 'Last' to 'First'. I do not know how to troubleshoot the issue other than repetition. Some of the original images do have different resolution, but that doesn't seem to affect the output. Also file size and system resources do not seem to be issues based on subset trials.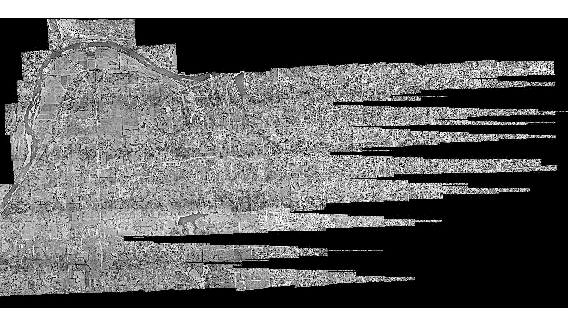 1 Solution

New Contributor II
Mark as New

Bookmark

Subscribe

Mute

Email to a Friend
I just discovered the Export Raster option. It is not a Geoprocessing Tool (why?). This solved my problem.
Right click on the Mosaic - or any raster - go to Data>Export Raster. This opens up a separate pane with export options very similar to Geoprocessing tools, but not a GP tool. The export worked perfect and even used the proper mosaic and some color balancing without being prompted.
With so many GP tool options, I fail to see why ESRI would leave this option 'hidden' separately under the layer Data options. And it doesn't explain why the GP tools I tried failed.
7 Replies