Occasional Contributor III
Mark as New

Bookmark

Subscribe

Mute

Email to a Friend
I hope this is just a support question and not an idea (though will happily move it if so). I've found that when using Layer Masking in ArcGIS Pro, that if I then move/reorder layers with a Mask setting applied (i.e. Land Systems (FPC) in the image below) in the table of contents, it wipes the mask setting. Likewise, if I move a layer that is being used as the Mask (i.e. Operation Mask in the images below), layers masked by that layer lose the setting and need it reapplied.
Table of Contents;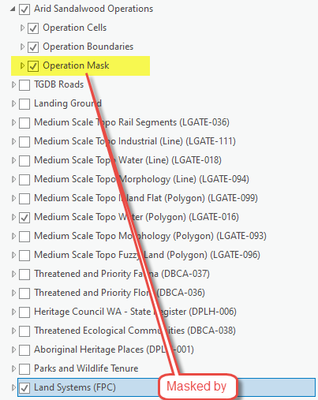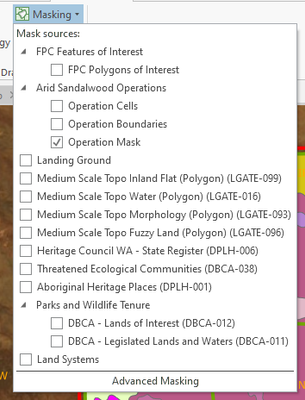 Hope that makes sense!
Lindsay Raabe
Forest Products Commission WA
1 Solution

Occasional Contributor III
Mark as New

Bookmark

Subscribe

Mute

Email to a Friend
Hi All. ESRI Support have looked at this. Whilst it is annoying for myself, it was how the layer masking function was intended to work. I've inserted a section of the support request below;
Thank you for your patience while we have investigated this further. We have completed some testing and produced the same outcome as you have described. However, this is considered to be expected behaviour. The way the masking is drawn, if it was permanently retained it could lead to issues with drawing layers.

There are more permanent solutions through symbol level masking that could be implemented as a work around if that suits your projects. Described here: https://pro.arcgis.com/en/pro-app/latest/help/mapping/layer-properties/use-a-masking-layer.htm

As masking can bring some performance complexity, we would advise doing it at the end once the map has been finalised. We do understand that this is a functionality your organisation would find beneficial, so we have lodged an enhancement request that can be tracked through My Esri (https://my.esri.com/#/support/bugs/ENH-000137450).
I have created an Idea in the ArcGIS Pro section (https://community.esri.com/t5/arcgis-pro-ideas/retain-layer-masking-when-reordering-layers/idi-p/102...) so if you want to see this functionality changed, head over there and show your support!
Lindsay Raabe
Forest Products Commission WA
6 Replies