New Contributor II
Mark as New

Bookmark

Subscribe

Mute

Email to a Friend
Hello,
I simply want to create a duplicate of the layer (just some lines and points). However, if I just do copy and paste, any modification of pasted layer will be applied to the original layer as well. So it's not really a duplicate, rather just creating another "view."
So I did some research and most people recommend 2 methods but none works for me:
1. Using [Right Click] - [Data] - [Export Features].
This does make a duplicate (modification does not affect the original), but it only duplicates some features, not all. Entire selection makes no difference. Can anyone let me know what additional settings I need to do? Please let me know if I am missing anything. The first image is the layer that I want to duplicate. And the second image is result of Export Feature.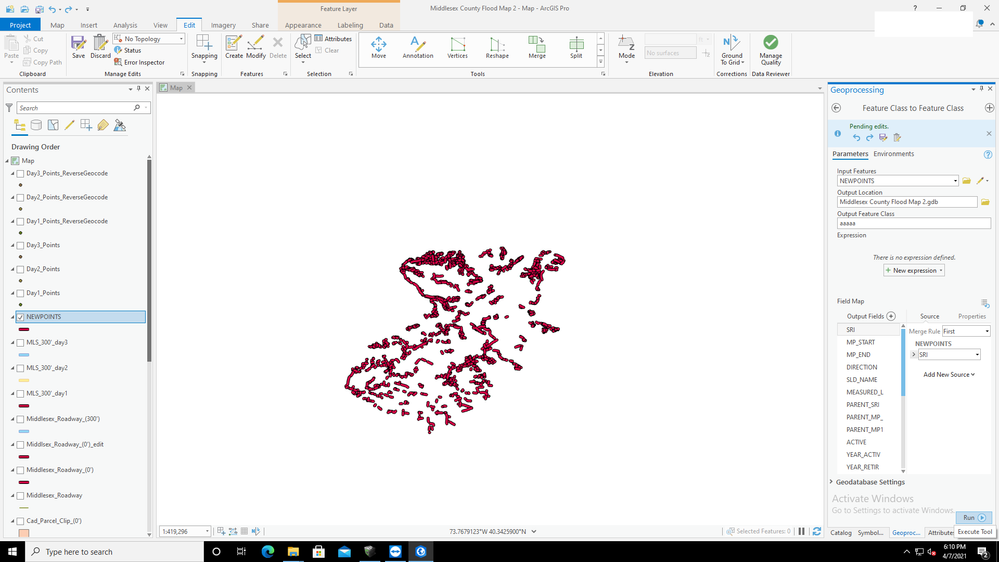 The Original Layer
New layer generated from export features
2. [Select the feature to duplicate] - [Right Click] - [Selection] - [Make Layer from Selected Features].
This does not make a duplicate layer. Just like copy and past, it creates another view, and modification affects the original.
1 Solution

by
DanPatterson

MVP Esteemed Contributor
Mark as New

Bookmark

Subscribe

Mute

Email to a Friend
Clear any selection you have, because if you have a selection, only those features will be used.
Use the Copy Features or FeatureClass to FeatureClass tool in ArcToolbox. They will make duplicates of the input featureclass. Obviously, you can't use the same name.

... sort of retired...
4 Replies