New Contributor III
Mark as New

Bookmark

Subscribe

Mute

Email to a Friend
Hi,
I have a map with data driven pages (Map series now?) in the Layout and several feature classes with different labels. All of the pages have different rotations defined by a rotation field in the controlling feature layer.
I have in practice two layers I care about:
Drillhole layer with "bubbles" which should be rotated 0*deg in reference to the layout. (normal Reading)
Profile numbers which should be rotated relative to the map north. These profile numbers have a rotation field which ensures them to be rotated correctly according to map north.
I thought I found a solution with the "Rotate point and polygon labels when map is rotated" in the label part of the map properties, however the effect is not desirable, as you can see in the figure: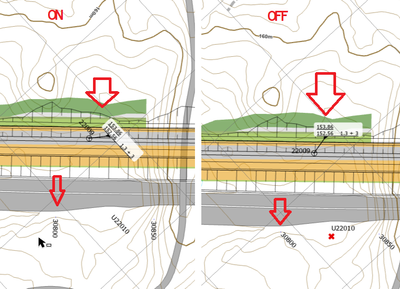 After this defeat I tried for a while to find any solution in the Arcade environment to rotate some of the labels "back" to normal. I wanted to get an expression in arcade which gave me the rotation from the map frame. However, I have not found any way, mostly because the documentation on Arcade is limited, and I have yet to find any examples of what I can find with the $view or $layout part of arcade. I have read through a lot of the GitHub examples, but not anything there either (as far as I found).

The crux here is that I can't edit, or convert the datasets, as they should be dynamic to a feature service of which I have no control over. Otherwise I could just create lines out of the points and use line labels.

So, my question is as follows:
Are there any method of either:
Use the "Rotate point and polygon labels when map is rotated" option on only selected layers?
Use Arcade in a rotation field to access information (rotation) from the current map page?
Also, are there any documentation on what you can access with the $view in Arcade?
5 Replies