New Contributor II
Mark as New

Bookmark

Subscribe

Mute

Email to a Friend
Hi all,
I have been using ArcMap for some years for basic stuff and recently switched to ArcPro while trying to use arcpy at the same time. Therefore, I would appreciate any suggestions that I could use either in ArcPro as a tool or code in arcpy (if possible with explanations what exactly the code does).
Here's my question:
I have a shapefile of lines (road fragments) and I want to find points where at least 4 of those lines intersect. All I could find where ways to determine intersections of two features from the same shapefile or the intersections of features from several shapefiles. Is there a way to define the number of intersecting features from one shapefile?
To give you a bit of an impression of how my shapefile looks like, here a screenshot: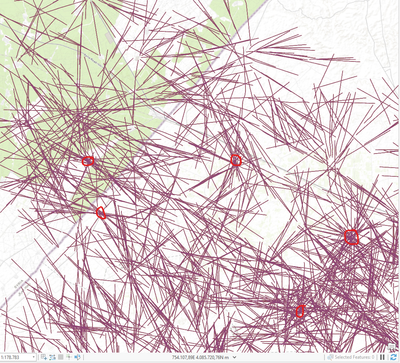 As you can see, there are some hubs (red) where a lot of lines intersect and those are exactly the points I want to find. Is there any way to that other than manually?
Many thanks in advance!
Deborah
1 Solution

New Contributor II
Mark as New

Bookmark

Subscribe

Mute

Email to a Friend
Thanks again for your suggestiond. After trying a few things, I just went with intersecting the layer with itself and then using Aggregate Points to find locations with many intersections. I then filtered them, converted the feature class back to a point layer and repeated the progress to refine the results. I know, it's probably a bit complicated and not the straightforward way but it worked for now.
4 Replies