Occasional Contributor
Mark as New

Bookmark

Subscribe

Mute
I have installed packages in a cloned environment using the Python Package Manager within ArcGIS Pro. The modules are showing up in the 'Installed Packages' section and everything looks fine: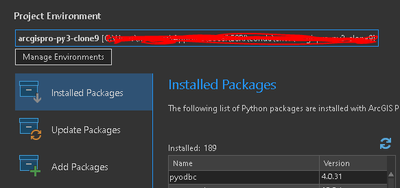 However, it's not finding the modules when I try to import in Pro:
import pyodbc
Traceback (most recent call last):
File "<string>", line 1, in <module>
ModuleNotFoundError: No module named 'pyodbc'
This is happening with all installed packages. They used to work fine before upgrading Pro. I have restarted Pro, double-checked that the correct cloned environment is initialized, and tried installing the packages in a new cloned environment after upgrading Pro.
Anyone else having this issue? Anything I can do to fix this?
1 Solution

Esri Regular Contributor
Mark as New

Bookmark

Subscribe

Mute
The issue causing the environment to fall back to arcgispro-py3 should be addressed in the Pro 2.8.2 patch. Alternatively, if you have an environment which is otherwise good, you can copy <Pro install>\bin\Python\envs\arcgispro-py3\Lib\site-packages\arcgisscripting\_arcgiscripting.pyd into the environment location at the <env>\Lib\site-packages\arcgisscripting\_arcgisscripting.pyd and things should work as expected.
15 Replies