Mark as New

Bookmark

Subscribe

Mute
In the table of contents please make possible to jump to selected item/s, or to filter it/them.
This will save us time and energy.
I'm not referring to features in data layers, but to elements we select in the layout view, such as graphic elements, legends, map windows, etc.
Sometimes we have so many elements that it becomes time-losing to find in the TOC the element that we selected in the layout view.
Some specifications below :
-------------------------------------------
What is your next step that you do with multiple highlighted elements that makes it difficult/impossible if you cannot see them together?
The start of my request is for only one element. When i interactively select a legend on my layout, i want to be able to "jump" on it just with only click on some "jump on selected item" button in the content pannel.
I just wondered then how we could do with several elements. I would see 2 solutions :
the same

"jump on selected item"

button in the content panel could have 2 arrows, up and down, to jump to the next or previous selected item
a

colored line in the scroll bar

of the content panel would highlight the position of the selected items, and we could click on that position in scroll bar to reach it, or just know where to scroll.
just add a possibility on the filter :

1+2 could also be combined.
Below, this screenshot of Brave browser's search function illustrates my point 2. I'm sure some softwares has an even better system for that.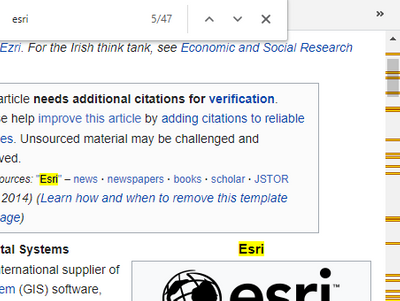 -------------------------------------------------
Why is it important to see the highlighted elements in the Contents pane all at once?
At the end it's not that important to see them all at once. The main goal is to make easy to reach the item in the content panel, and that could be a way if there are multiple items.
-------------------------------------------------
I've been using GIS for +20 years and have never been in a situation that I have so many items in a layout that its difficult to navigate, you seem to be in a extreme situation and I personally wonder how many other users are in a similar situation?
I often have to deal with complex legends which i can't manage with normal legend formatting, so i either transform them to graphic elements, or divide them in many legends (notice that i know all the formatting legend options, i spent days on them). (And then sometimes i also put graphic element to help me for the alignments because i work better with them than with grids and guides).
And also if i have several map windows, each oh them comes with all it's layers in the TOC.
So i think there are many reasons to have a lot of items in the map, so i would say alot of users could benefit that improvement.
An example of the map i'm working on now :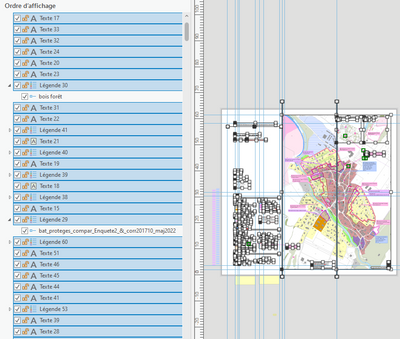 10 Comments
You must be a registered user to add a comment. If you've already registered, sign in. Otherwise, register and sign in.