Occasional Contributor III
Mark as New

Bookmark

Subscribe

Mute
Hello,
First of all, this is a long one - my apologies before getting started
We are developing a new Hub site and i wanted to see how our content would appear in the new Hub content-views version being released May 25. Unfortunately, our data layers are not displaying as expected.
The AGOL data layers used in our new Hub site are 'reference' layers; that is, the data is not hosted in AGOL. Instead, the data sources are our ArcGIS Server map services. We are using AGOL as a 'proxy' to access the data. Our ArcGIS Server data is hosted as map services with many layers nested inside 'folders'. For example for our 'vacant and developed land' data, we have 29 layers nested inside the 'develop' folder. So the URL looks like this: https://gis.oregonmetro.gov/arcgis/rest/services/develop/develop/MapServer/0. We use that URL as the "Feature Layer Data Source URL" in AGOL.
It seems like the new Hub content page is 'confused' as to whether the item is a Map or a feature layer and thus showing elements of both a map and feature layer - but not completely either one - if that make sense. See the screen cap below.....Any thoughts about what's going on?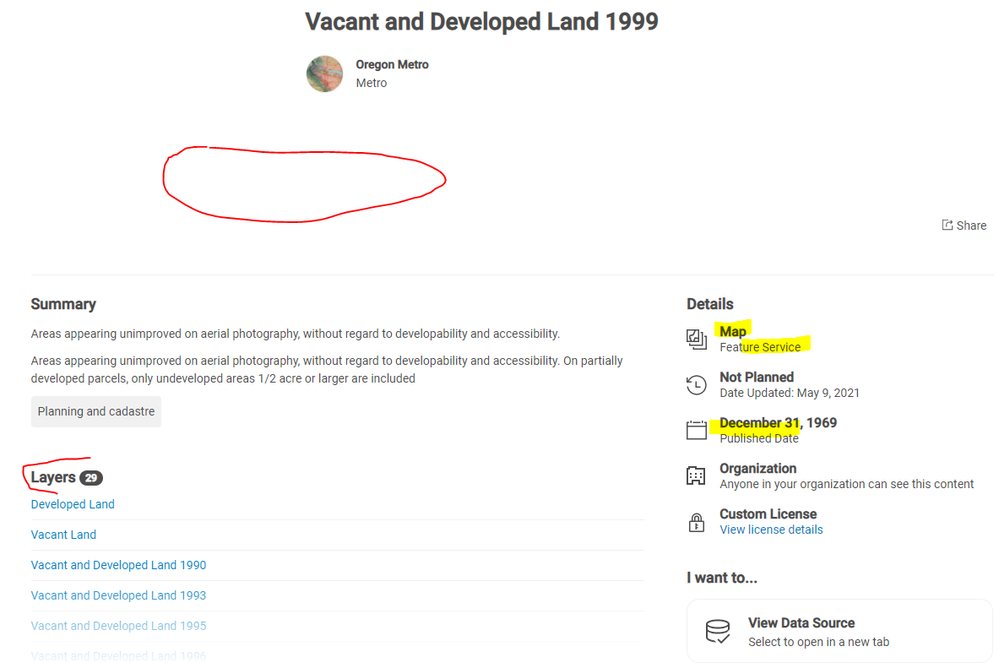 - The map is missing
- Showing 29 Layers when should be a single layer. So its listing all the layers in the folder for the map service
- Details - showing as both Map and Feature service
- Details - published date isn't right (i'm still working on our end to see if that is bad data coming from our service)
4 Replies