Mark as New

Mark as Read

Bookmark

Subscribe
ArcGIS for Power BI is updated regularly to provide new features, improved speed and usability, and bug fixes. The 2022.3 update is a quality release. Performance improvements and bug fixes have been made for the following features.
This release will start deploying between June 15th, 2022, and June 16th, 2022. It may take up to 48 hours to push out to all regions (up to two weeks for government-level sites).
If you do not see the changes, you may need to close out and restart Power BI Desktop or restart your browser if you are using Power BI Online.
As always, please let us know of any improvements or issues you want to chat about!
----
Selection tools
The Selection tools widget has gotten a bit of an upgrade with this release. We removed some unwanted behavior when making selections using a reference layer or a drive time layer. We have also consolidated the tools into one row and added a new option called Interact with Power BI Visuals. There were also a number of bug fixes and polishes throughout all of the selection tools in the visual. We have some more to go, but we feel this is a great start.
Please let us know what you think of this change!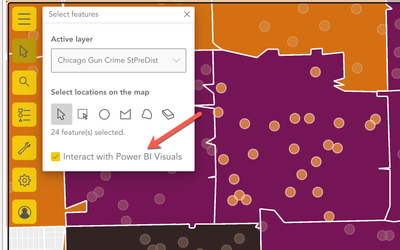 Above: ArcGIS for Power BI v2022.3.109
Previously, there was a large blank space and two lonely icons sitting in the panel if you selected a reference layer or drive time layer. This was somewhat jarring and felt out of place when selecting a different layer. Further, our component is now more in line with ArcGIS for SharePoint's and ArcGIS for Excel's selection tools look and feel.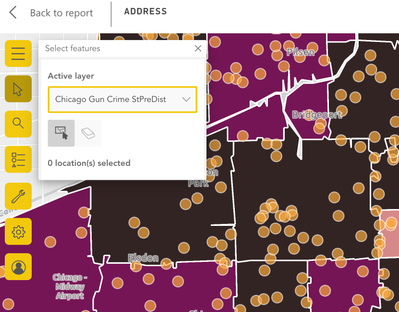 Above: Previous version of ArcGIS for Power BI (v2022.2.107)
This new option allows you to determine if you want to filter the other visuals on the report page, or stay within the map. By default, this will always be unchecked and greyed out if you are on the Power BI data layer. Where this comes into play is when you are using a reference layer or drive time layer to filter other visuals.
*Note: At the moment, unchecking this box will allow you to interact with only the Infographic cards. We made this change to allow for more interactivity on the map in future releases.
Take a look below to see this in action.
Further, you can check out our documentation here: Select locations on the map—ArcGIS for Power BI | Documentation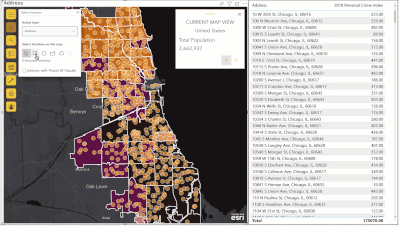 Above: Interacting with other visuals and making selections 
Error messages
In previous versions of ArcGIS for Power BI, we didn't have a good handle on error messages when they would appear on the map. In v2022.3, we started to capture and build new messages when running into an error on the map. While we do our best to not have errors appear, sometimes, they can slip through and cause issues.
Below is an example of a before and after in the visual. This is somewhat of an extreme example because I am attempting to add multiple layers that I do not have access to. We've also added an enhancement for Viewers when accessing layers that fail to load or layers they do not have permission to. Both ArcGIS for SharePoint and ArcGIS for Excel have this feature (and we finally caught up!).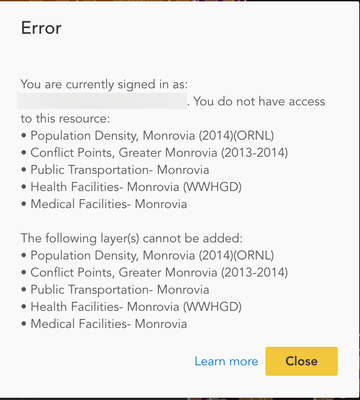 Above: New dialog capturing error messages (v2022.3.109)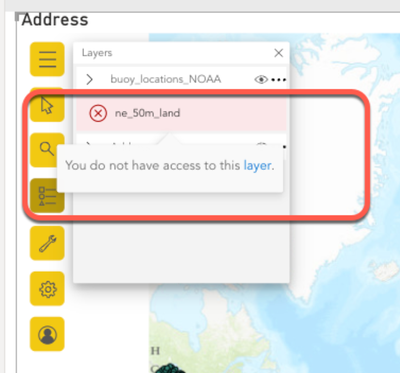 Above: New dialog capturing error messages for Viewers (v2022.3.109)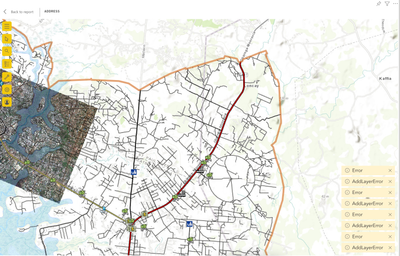 Above: Error handling when adding the same reference layer (v2022.2.107)
----
Bug fixes and polishes galore!
In this release, we have squashed a ton of bugs and polished a great deal of the visual. Here is a small subset of the items we tackled between our last release and this one. Halfway through the year already, and we still have lots more to get done!
Bug fixes:
Fixed an issue where making selections on the map would not update in the Selection tools pane
Fixed a number of issues related to toast messaging and how many appear on the map
Fixed an issue where selections were automatically being made when hovering over a reference layer
Fixed an issue when connecting to IWA in Power BI Online
Fixed a number of issues when displaying points on the map and using a time slider
Fixed a rare instance when infographic cards would not display titles correctly
Join layer selections now respond properly across other visuals on the report page
Fixed an issue where a user could no longer scroll in the Reference layer pane
Fixed an issue where the lock extent feature was ignored when adding certain reference layers to the map
Fixed an issue where the visible range selection in the Labels section was cut off
Fixed z-ordering issues with multiple pop-out windows
Design polishes:
Removed an unwanted close button on the Time slider
Changed the button style on the landing and blocking pages
Quality of life updates:
Clarified documentation and messaging related to user types and privileges
Added documentation to cover clearing WebView2 cache
Cleaned up a number of outdated screenshots in the ArcGIS for Power BI documentation
The map will zoom automatically to a feature's extent when using Join layer and selection
Refined caching to improve performance on the map
Refined error messaging handling when an error occurs on the map
Added a new link to documentation when an organization does not have any basemaps to use
----
As mentioned in my last post, the goal of these fixes and UI/UX polishes is to make it easier to navigate and create meaningful maps for your report. As we continue to move toward the unified experience across all ArcGIS for Microsoft 365 visuals, we would love to hear your feedback, whether it be an idea or if something is broken. Having open communication about the visual and how we can improve will keep us moving forward and paving the way for GIS in the Microsoft 365 ecosystem.
You must be a registered user to add a comment. If you've already registered, sign in. Otherwise, register and sign in.