New Contributor III
Mark as New

Bookmark

Subscribe

Mute
At the beginning of the year I went through the workflow of setting up Field Maps and Mobile Manager with a Trimble R2. While not as clean of a solution as having GNSS built into the app like Collector, it did work. Since Collector is still available, and less of a hassle, I've still been using that.
I wanted to do some more testing with Field Maps today, and Field Maps no longer appears to be receiving corrected locations from Mobile Manager. I have corrections set up in Mobile Manager and a location profile set up in Field Maps. When I open Mobile Manager, it shows my status as RTK correction with 0.23 ft accuracy. When I open Field Maps, it shows my status as Differential GPS with 1.4 ft accuracy. Field Maps is not receiving the altitude data from Mobile Manager either, so I assume there is a larger issue going on here.
If I use Collector to connect directly to the Trimble R2, the NTRIP corrections work perfectly.
Device: iPhone 12 (iOS 14.6)
Field Maps: 21.2.0
Trimble Mobile Manager: 2.8.0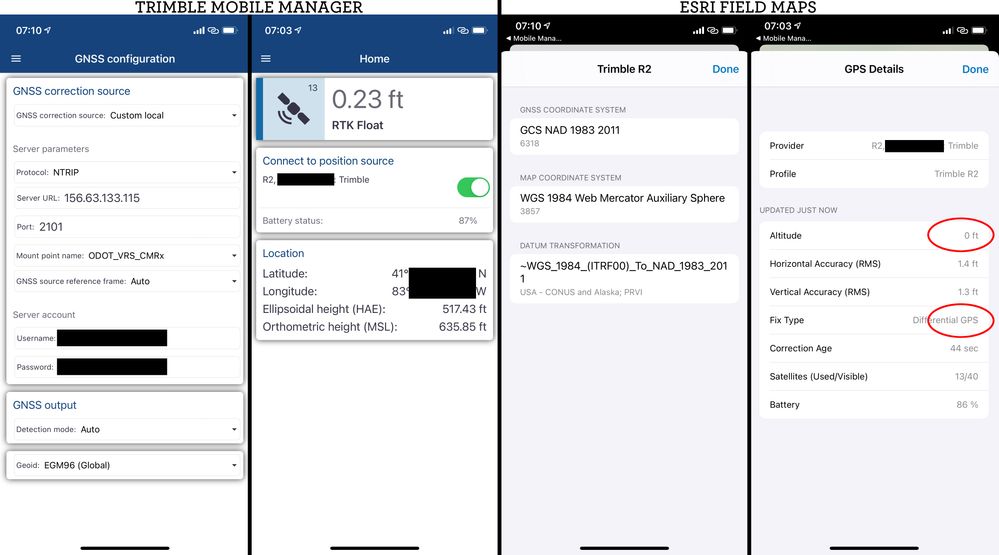 1 Solution

New Contributor III
Mark as New

Bookmark

Subscribe

Mute
Thanks to ChrisRehak for his help in this post. Switching to the RTCM or the latest CMRx service provided by ODOT VRS worked for me. The old CMRx service never gets the NTRIP correction for some reason.
Once I had a working NTRIP service selected, the workflow suggestions from MiaogengZhang worked. So it does look like this is an issue with the NTRIP service being used.
And just so others are aware (not sure if this is intentional in the apps or not), Trimble Mobile Manager has a toggle switch for connecting to the Trimble. This switch DOES NOT need to be on for Fields Maps to get locations or corrections from TMM. I was getting corrections and altitude data in Field Maps, even though TMM still said the Trimble wasn't connected.
I actually think Field Maps was acting less glitchy and received corrections faster when TMM wasn't connected to the Trimble.
10 Replies